The Complete List of Grand Canyon Activities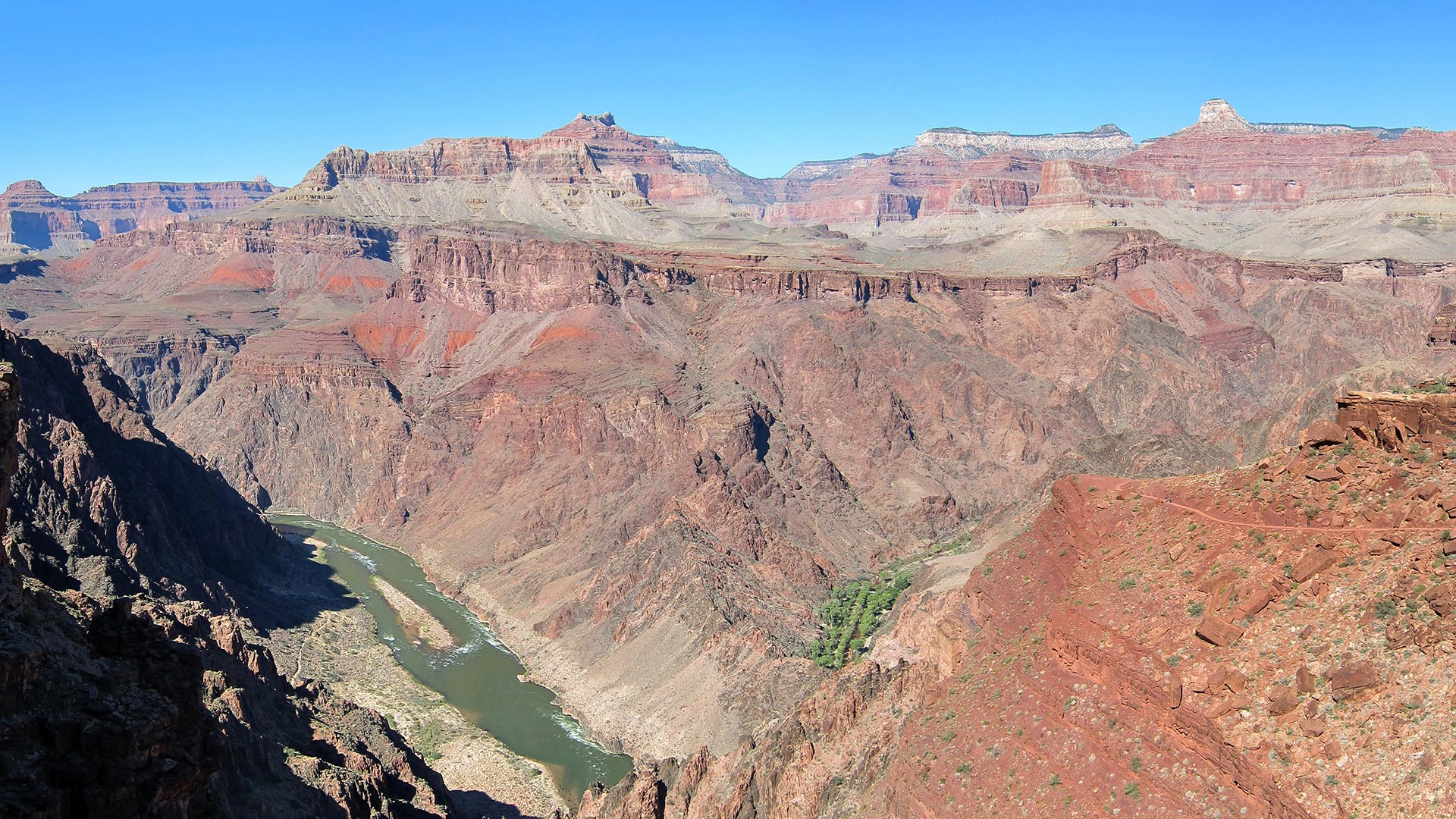 Published:
July 3, 2019
Explore Grand Canyon activities
Grand Canyon is huge and full of fun activities, with something to suit every traveler. To help you sift through them, the Guru has compiled a complete list of tourist activities and attractions for Grand Canyon National Park and the surrounding areas.
With our list, you'll be able to find activities for every season so you can make the most of your vacation, no matter when you visit. Whether your trip is for several hours or several days, our list will help you find great activities throughout Grand Canyon. If you'd prefer to do something more relaxing, read the top part of our list for some great ideas. Those of you who want a little more adventure will find a complete list of adrenaline pumping activities at the bottom.
Want a little more help? Use the Ask the Guru Tool for a customized list that will include the best activities and attractions for the trip you want!
Grand Canyon Guru is reader-supported. When you buy through links on our site, we may earn an affiliate commission. Thanks.
Grand Canyon's More Relaxing Activities
The Grand Canyon Railway – Go back in time and take a historic train into Grand Canyon Village. Departing daily from Williams, Arizona, the Grand Canyon Railway offers a unique way to get to the South Rim of the Grand Canyon, complete with scenic views and Western folk music along the way. The train is a great option for anyone who wants to skip the hassle of parking and enjoy a few hours taking in spectacular views and strolling through Grand Canyon Village.
Grand Canyon Scenic Drives – Do you prefer to travel in comfort of your own car? Grand Canyon has several scenic drives on both the North and South Rims that will take you to some of the best views of the canyon. From the South Rim's paved viewpoints along Desert View Drive to more rustic dirt roads along the North Rim, the park's scenic drives will give you access to some of the most famous canyon views such as Desert View, Grandview Point, Mather Point and Cape Royal. You can even take a scenic drive right to the banks of the Colorado River at Lees Ferry or Diamond Creek or explore more remote parts of the canyon along endless 4x4 backcountry roads.
Grand Canyon IMAX – Nothing beats exploring the Grand Canyon on your own two feet, but a great way to end a day at the park is by watching the Grand Canyon IMAX. Because Grand Canyon is simply too big to see it all in one visit, the IMAX will let you see even more by taking you to remote parts of the canyon, letting you soar overhead for epic views, and letting you raft through some of the most exhilarating rapids in the world. If the kids are tired of walking, it's a rainy day, or you just got back from a Rim to Rim hike, the IMAX is a great way to get off your feet and still experience the canyon. The Grand Canyon IMAX is conveniently located in the gateway town of Tusayan, AZ, a short five minute drive from the South Entrance to Grand Canyon National Park.
Grand Canyon Viewpoints – With its colorful layers and fascinating rock formations, Grand Canyon has some of the most amazing vistas in the world. The best access (and some say the best views) are from the South Rim of Grand Canyon National Park which includes famous overlooks such as Desert View, Mather Point, Hopi Point and Pima Point. This part of the park is open year-round from the Desert View or Tusayan entrance stations. If you want a little more solitude while you gaze upon the canyon, the North Rim is the place to be. There are several famous viewpoints on both paved roads and 4x4 roads including Bright Angel Point, Cape Royal, Point Imperial and Tuweep. Only open from mid-May through the first snow of the year, you can find and enjoy a view to yourself. The famous Horseshoe Bend overlook is accessed from a trailhead just south of Page, AZ, right off of Highway 89.
Grand Canyon National Park Guided Ranger Talks – The National Park Service offers free guided ranger walks and talks every day of the year. Park rangers are experts about the natural and cultural history of Grand Canyon and will take you to some of the most famous views and down some of the most famous trails and teach you along the way. Ranger programs are a great option for anyone who isn't comfortable exploring on their own or if you are just looking to learn more about what makes the canyon so special. Ranger walks and talks are offered on both the North and South Rims and families can even find specific Junior Ranger programs that are designed for kids.
Grand Canyon Photography – Now that everyone has a camera in their pocket there's no excuse to leave the canyon without some epic photos. Photographs make great memories and Grand Canyon is very photogenic, no matter what part you visit. Professional photographers from around the world flock to the canyon to capture the perfect sunrise or sunset photos but everyone can get a great shot of the scenic vistas, whitewater rapids, monsoon thunderstorms, California condors, and glorious sunsets. While some people prefer to take photos at the marked overlooks, you can also get some great shots from other spots along the canyon as well. If you're taking a selfie, make sure you check your footing before uploading the pic of a lifetime to your feed. Want to ensure you get the best photos of your trip? Consider booking a guided photography tour to hit the best views with the perfect lighting.
Grand Canyon National Park Shuttles – Using the national park's free shuttle buses is the best way to avoid the hassle of moving your car around on a crowded day at Grand Canyon. The shuttles run along the South Rim and will take you to famous overlooks, historic hotels, world-class trailheads, and restaurants with a view. There are three shuttles (the Orange/Kaibab Route, the Blue/Village Route, and the Red/Hermit Route) that interconnect and will take you to miles and miles of canyon views and services. It is important to note that a number of trailheads and overlooks in the park are "shuttle bus only" including South Kaibab Trailhead, Yaki Point, and the overlooks along Hermit Road. Luckily the shuttles start running an hour before sunrise until an hour after sunset and arrive every 10-30 minutes so you can get to everywhere you want to be and let someone else do the driving along the way.
Tusayan Ruins Grand Canyon – The Tusayan Ruin and Museum on the South Rim of Grand Canyon is a great place to learn about the canyon's earliest inhabitants and see some of their architecture and historical artifacts firsthand. Explore what remains of the ruins via a short, paved trail before checking out the exhibits inside the museum to learn more about this small community of people who survived in the desert more than 800 years ago. For experienced hikers and rafters there are many archeological sites below the nearby canyon rim as well!
Grand Canyon RV Parks – Whether you're renting an RV or trailer for the first time or hitting the road again in your own, Grand Canyon is a must see if you're exploring the Southwest on wheels. Grand Canyon has limited offerings if you're looking for full hook up, as the only option inside the park is Trailer Village on the South Rim. Trailer Village is conveniently located in the heart of Grand Canyon Village and you can either walk to the rim for a view or hop on the park's free shuttle bus right in front of the registration building. If you don't need hookups you can, of course, also stay in the park's campgrounds but there is a 30ft limit. If you are setup to explore more rustic roads and want to get off the grid there are plenty of nearby Forest Service roads and other free campsites as well. For those who prefer the more traditional RV park experience, nearby cities like Flagstaff, Williams and Kanab have RV parks with all of the amenities within easy driving distance of Grand Canyon.
Grand Canyon Fall Colors – Sitting at 8,000 feet above sea level, the North Rim of Grand Canyon is home to some beautiful groves of aspen trees. While these charming trees offer both photo ops and shade during the summer months, they turn into one of the park's main attractions in late September/early October as their leaves turn golden yellow. The contrasting color of fall aspens and the canyons spectacular rock layers makes some of the best photos you can get! Call the North Rim Lodge or the national park to check on timing before making the long drive out to the rim.
Winter Snow at Grand Canyon National Park – It's usually sunny at the Grand Canyon, especially during the peak summer season, but there are other sides to this busy tourist destination. Most people don't realize that the South Rim is 7,000 feet above sea level so it experiences true winter weather with below freezing temperatures and infrequent heavy snowstorms that can blanket the canyon rim and turn the park into a winter wonderland, if only for a while. More often than not, the snow doesn't last for long so if you happen to see the canyon with snow enjoy the views and get some good photos before it's gone. If a storm is heavy enough you might even be able to hit the rim trails on snowshoes or cross-country skis!
Grand Canyon Wildlife – Like most national parks, Grand Canyon's expansive wilderness provides refuge for some spectacular and interesting animals that you might happen to see during your visit. One of the park's most notable inhabitants is the endangered (and huge!) California condors that soar over the canyon on hot summer afternoons. You can also look for these bald birds roosting below Lookout Studio in Grand Canyon Village or below Navajo Bridge near Lees Ferry throughout the summer. The South Rim is home to herds of large Rocky Mountain elk that put on quite a show during their fall mating season and you can see huge males battle it out with their antlers to protect their large harems of females. On the North Rim, look for unusual buffalo/cattle hybrids grazing in the meadows or the endemic dark-colored Kaibab squirrels scurrying around in the ponderosa pine forests. Throughout the canyon you can also find mule deer, coyotes, bighorn sheep, mountain lions, bobcats, and tons of reptiles.
Grand Canyon Sunrise and Sunset – Grand Canyon is, of course, spectacular at any time of the day but the sunrises and sunsets are not overrated if you want to capture the canyon with glowing colors, beautiful shadows, and a burst of color from the sun. While people will endlessly debate the best overlooks, you can truthfully get a world class view at any spot along the rim. The most famous sunrise spots include Mather Point and Yaki Point on the South Rim and Bright Angel Point on the North Rim. Sunset spots include Desert View and Hopi Point on the South Rim and Cape Royal on the North Rim. The famous spots offer great views but are also crowded (and potentially rowdy) so if you want a more peaceful experience just walk along the Rim Trail until you find a view you like. The park's South Rim shuttle buses all operate from an hour before sunrise to an hour after sunset so you can get to all of the best views on time.
Driving to the Colorado River Through Grand Canyon – Most people only get a glimpse of the Colorado River a mile below them from the canyon's rim but you can actually see the mighty Colorado up close and personal, even without hiking or riding a mule to the bottom of the canyon! A scenic drive through the Painted Desert of the Navajo Nation will take you to Lees Ferry at the eastern boundary of the park where a paved road takes you right to the river. There you can touch the ice-cold water and then watch river rafters gear up for multi-day journeys through Grand Canyon's famous whitewater rapids. If you have a 4X4 you can actually drive through a portion of the canyon along Diamond Creek (on the Hualapai Indian Reservation) to the banks of the Colorado.
The North Rim of the Grand Canyon – Because the North Rim of the Grand Canyon requires more driving to get to and is only open for part of the year, it gets a lot less visitors than the bustling South Rim. Services on the North Rim are open from May 15th through October 15th but you can still explore the park until the first major snowstorm of the season or November 31st, whichever comes first. The North Rim has it all with a grand lodge that includes an epic outdoor patio, beautiful scenic drives like Cape Royal Road, and iconic hikes like Bright Angel Point and the North Kaibab Trail. The North Rim's beautiful meadows, cool aspen groves and great views will make you fall in love with this part of the park!
Grand Canyon's more Adventurous Activities
Grand Canyon Scenic Plane or Helicopter Flights – One of the things that most people picture when they think about Grand Canyon is soaring above it in a helicopter or airplane. If you've ever seen aerial photos of the canyon and are tempted to see it for yourself, consider booking a flight from one of the many locations in and around the park that offers them. If you're visiting the South Rim, the Grand Canyon Airport is an easy 5-minute drive outside of the park and you'll have your choice of tour operators who will take you on either 30 or 50-minute-long rides above the canyon. You can also hop on a helicopter or scenic plane in Grand Canyon West (part of the Hualapai Indian Reservation) or in Las Vegas, NV. The thrill of flying over the rim of the canyon and watching the ground drop down by a mile in an instant is a memory that will last a lifetime.
Grand Canyon Skywalk – The Grand Canyon Skywalk has become one of Grand Canyon's most famous and most thrilling overlooks. The Skywalk is a glass bridge that is suspended 70 feet out over the rim of Grand Canyon and offers you a dizzying view 4,000 feet straight down to the Colorado River below. The Skywalk is located on the Hualapai Indian Reservation at Grand Canyon West and is one of many tourist attractions that you can enjoy in the area. If you decide to spend the day at Grand Canyon West you can also hop on and off the scenic shuttles take in more canyon views, enjoy a native dance demonstration, grab lunch or dinner, feel the thrill of the zipline, or even take a helicopter or boat tour of the area.
Grand Canyon Hiking – Hiking Grand Canyon is an activity almost anyone will enjoy. From a short stroll along the rim to an all-day inner canyon adventure, hiking is one of the best ways to experience Grand Canyon. If you want more than a day below the rim, grab your backpack and set off on a multi-day trip through remote side canyons. Local hiking guides will take you on both day and overnight trips, so you have an area expert teaching you about the canyon along the way.
Hike the most popular trails – The corridor trails are the Bright Angel, South Kaibab and North Kaibab trails. Popular year round, these are the most heavily used national park trails leading into Grand Canyon. The South Rim's Rim Trail is a mostly paved 13-mile long trail that offer incredible views from the top of the canyon and is conveniently connected to the park's free shuttle buses.
Set out on a day hike – The canyon's South Rim has the easiest access to trailheads for day hikes, but there are many other great hiking trails throughout Grand Canyon. Read more about Grand Canyon's hundreds of miles of hiking trails to find the right one for you.
Explore more on a backpacking trip – Grand Canyon has some of the best backpacking in the world where you can explore colorful side canyons, swim under remote waterfalls, and sleep out under the stars. The South Rim is open all year but backpacks off the North Rim are closed in the winter due to snow fall. Read more about how to get a backpacking permit and plan your Grand Canyon backpacking trip.
Spend a few days at Havasu Falls – There are no roads to Havasu Falls so hiking is your only option to access the area's spectacular turquoise waterfalls, unless you happen to grab one of the occasional helicopter flights. Located on the Havasupai Reservation deep within western Grand Canyon this is a must-see destination for the adventurous traveler. The area boasts five incredible turquoise waterfalls set amongst the red rocks and you can spend your days hiking or just relaxing along the creek.
Get into true Grand Canyon wilderness – If you are an experienced hiker and prefer to get away from the crowds, there are hundreds of miles of lightly traveled trails and backcountry routes throughout Grand Canyon to explore. Backpacking Grand Canyon trails outside the corridor requires a lot more preparation because trails are rougher and steeper, and water is scarce. But with the right planning, you'll be rewarded with both beauty and solitude in a true desert wilderness. Learn more about wilderness trips.
Grand Canyon Mule Rides – Want to travel the canyon like they did in the old days? Grand Canyon mule rides will transport you back to the Wild West and get you to some of the most scenic parts of the canyon. If you're visiting the South Rim you can take a scenic half-day mule ride along the canyon rim and overnight mule trips to Phantom Ranch at the bottom of the canyon depart from here every day of the year as well. Mule trips are limited and book up far in advance (you'll have to enter the Phantom Ranch Lottery for any overnight trips) but if you can't get a spot there are also mule rides in the National Forest outside the park in Tusayan, AZ to make sure you get in the saddle. If you're not visiting the South Rim, you can also hop on a mule at the North Rim for half-day rides along the rim or day trips into the canyon itself.
Grand Canyon Rafting – From mellow one day float trips to week-long wilderness whitewater adventures rafting Grand Canyon has it all for boating enthusiasts. Regardless of which rafting adventure you choose you'll enjoy the refreshing chill of the Colorado River and have access to some incredible Grand Canyon locations that you can only see via boat.
Go on a leisurely float down the river – Although Grand Canyon is known for its thrilling whitewater rafting trips, the Colorado River also offers up a scenic smooth water float just upriver from the park for families and people who want a more relaxing experience. Gaze up at the canyon walls high above you as you float through world-famous Horseshoe Bend.
Experience one day of whitewater adventure – Get your adrenaline fix with the only one-day whitewater rafting trip through Grand Canyon. Rafting adventures are run by the Hualapai Tribe in western Grand Canyon and even include a helicopter ride up to the rim at the end of the trip. Be ready for a full day on the water and possible cancelations if summer monsoons close the road.
Embark on a rafting expedition – Running the Grand is one of the world's premier whitewater trips. Exciting rapids, amazing views and a truly remote wilderness experience make this an adventure you will never forget. Running from three days to two weeks, raft guides offer several trip options all of which include gourmet meals, awe inspiring hikes and access to remote canyon locations. If you want to run the Grand Canyon on your own, you can sign up for the national park's weighted lottery and cross your fingers.
Grand Canyon Camping – Grand Canyon is a great place to camp! There are several developed campgrounds on both the North and South Rims of the national park that offer everything from basic campsites to full hookups for RVs and trailers. Most campgrounds need to be reserved in advance but there are also some great campsites along the rim that don't require permits and offer a lot of solitude if you have a high clearance vehicle and some extra time to explore.
Grand Canyon Jeep Adventures – There are hundreds of miles of 4x4 roads in and around Grand Canyon that vary from easy and mellow to downright treacherous. Whether you're cruising through a ponderosa pine forest or crawling over hefty rocks to get to that most epic Grand Canyon view, exploring by 4x4 is a great Grand Canyon adventure.
Tour the canyon in a Jeep- If you're into 4X4 vehicles and want a back roads adventure there are several Jeep tours offered both inside and outside Grand Canyon National Park. You can hop in a Jeep as far away as Las Vegas or Phoenix or as close as Tusayan (only 7 miles from the rim of the canyon) to explore the area's 4x4 roads with a guide who will take you to the best views the canyon has to offer.
Rent your own 4x4- If you really want to get out into the wilderness, renting a 4wd vehicle will give you access to rarely visited viewpoints along the rim of the canyon that offer up a real adventure. Check out Point Sublime, South Bass or Tuweep (Toroweap) and be sure to have good maps, equipment and supplies since these places are far away from any help!
Grand Canyon Swimming Holes – You won't find much water on the rim of Grand Canyon but if you are willing to do a longer hike or multi-day backpack you can find some awesome spots to cool off in the hot desert sun. If you make it down to Phantom Ranch, don't be tempted to swim in the Colorado River (the cold temperatures and unexpectedly strong currents are dangerous) but head to the much more mellow Bright Angel Creek that runs through Phantom Ranch. You can usually walk a short distance up the North Kaibab Trail to find your own private and refreshing swimming hole. If you are heading down to Havasu for a few days, you'll have endless swimming options since you can swim in the unbelievable white travertine pools below the area's many waterfalls or just bask in the sun along the shores of Havasu Creek.
Grand Canyon Rock Climbing- It's no Yosemite but Grand Canyon still has some incredible rock climbing available. Although there are rocks everywhere you look, most of it is chaucy (not very stable) so choose your routes carefully. Whether you climb right off the South Rim or hike down to remote routes at the bottom of the canyon, Grand Canyon climbing is definitely an adventure.
Do some bouldering- There's some good bouldering available near the South Rim but if you're willing to hike long distances with your crash pad you'll find many more spots along the canyon floor and side canyons.
Sport climb for some epic views- Hanging off the edge of Grand Canyon lets you truly feel the thrill of thousands of feet of rock below you. You'll find several sport climbing routes along the South Rim, most of which are found near the Bright Angel trailhead and along Desert View Drive.
Multi-day trade routes- For more experienced climbers there are multi-pitch trade routes deep within the canyon and almost certainly some first ascents available for the taking. Just be selective when climbing in the canyon as it's mostly made up of soft sedimentary rock.
Grand Canyon Biking – Grand Canyon has some great options for bike riding adventures. Whether you're cruising around Grand Canyon Village and the Rim Trail, bike touring along the area's highways, exploring dirt roads in the national forest, or crushing some great single track, you'll find great bike routes for everyone at Grand Canyon.
Rent a bike on the South Rim- Most people don't bring their bikes with them on vacation but riding a bike is a great way to see the South Rim. Bright Angel Bicycles offers bike rentals at Mather Point and offer a good option to park your vehicle, be eco-friendly and avoid the sometimes-maddening traffic at the South Rim of the Grand Canyon. Bright Angel Bicycles also offers guided bikes rides and one-way shuttle service so you can truly enjoy your ride.
Stay in a hiker/biker campsite- If you're touring the West on your bike and want to make a stop at the South or North Rim along your way, you can check into one of the first-come-first-serve hiker/biker sites at any of the national park campgrounds. From there it's a short walk to get to a breathtaking Grand Canyon view.
Mountain bike the Rainbow Rim Trail- A little known single-track trail right at the edge of the canyon's North Rim is an awesome way to explore the park. This trail is located in Kaibab National Forest along the canyon rim and is the only single-track bike trail with a view of Grand Canyon. You'll need high clearance and a map to get to the trailhead, but it's well worth the drive and most bikers bring some minimal camping gear and sleep out at one of the many scenic spots along the trail.
Grand Canyon Cross Country Skiing – Sitting at 7,000 ft & 8,000ft above sea level, Grand Canyon can experience snowstorms from October to May. While a light storm can drop just enough snow for you to snap a few pictures before it melts, annual heavy storms shut down access to the North Rim for the winter. Cross country skiing is a fun way to cover some miles and get wintery views of the canyon along the way.
Ski the South Rim – The South Rim of the Grand Canyon can receive over a foot of snow in a good storm and if you happen to be around on a snowy winter day, you'll wonder why there isn't a Nordic Center on the rim. Cross country skiing or snowshoeing is a unique way to enjoy the solitude the winter months, but snow does tend to melt off the South Rim fairly quick after a storm. Great trails to access include the Rim Trail (before it gets plowed in the morning), Shoshone Point or trails and roads in the nearby Kaibab National Forest.
Adventure out to the North Rim – The North Rim on the other hand usually gets a heavy snowpack due to its elevation of over 8,000 feet. The road to the North Rim (Hwy 67) closes after the first snow (usually sometime in later November) and does not open again until May 15th. While you can enjoy incredible peace and solitude by skiing around the closed gate during the winter months, you can only travel off of the road and won't reach a canyon view since it's 45 miles away.
Grand Canyon Geocaching – While you can't cache or collect physical objects inside the national park, Grand Canyon does have a virtual EarthCache program that is fun for families. Grand Canyon's EarthCache is designed to get you out exploring the canyon while learning more about its unique geologic story. All you need to participate is a GPS, pen and paper and some time to explore! Get more information at any South Rim visitor center.
Grand Canyon Fishing – Grand Canyon has some great fishing, and in particular fly fishing. You can bring your own fly rod or casting equipment on overnight hikes to the Colorado River, but you'll also find good fishing in many of the side canyons as well such as Bright Angel Creek. If you'd prefer to skip the hike and have an expert take you out instead, you can hire one of many outfitters near Lees Ferry who will take you upriver in a boat. Grand Canyon has both rainbow and brown trout near Lees Ferry and throughout the upper canyon. If you head further down river on a river trip, you'll begin to find striped bass and catfish that have been making their way up from Lake Mead due to the warming water.
Toroweap Grand Canyon – In the far western Grand Canyon (off the North Rim) is a seldom visited area called Tuweep (also known as Toroweap). From Kanab, UT, several hours of driving down a rough dirt road will lead you to a rustic campground, a rugged trail to the Colorado River, a small ranger station, and a lot of solitude. This is an area best enjoyed during the cooler seasons for travelers who are not on a tight schedule.
Travel to Tuweep – This location requires some advance planning to access but it is worth it to take in view of the 3,000ft vertical drop to the Colorado River below. Reserve your campsite with a backcountry permit three months in advance, stock up on supplies (bring extras in case you encounter trouble along the road!), and then head out for one the canyon's best driving adventures.
Grand Canyon Rock Art – Grand Canyon is the ancestral home to many native tribes whose ties to the park continue today. For 13,000 years native people have lived and hunted throughout Grand Canyon, all the while creating some incredible pictographs and petroglyphs. Although the locations of archaeological sites are not given to the public in order to better protect them, if you do a little exploring and you can find these links to the past. For an easy spot to view a pictograph panel, head a few minutes down the Bright Angel Trail through the first tunnel. Up on the cliff face to your left you'll see a colorful hunting scene dating back 800 years.
Grand Canyon Caves – Most people don't know that the Grand Canyon's limestone rock layers are full of caves. While most of them are not closed to the public, there are a few fun caves to explore.
Get a guide at Grand Canyon Caverns- If exploring a cave on your own doesn't sound like your cup of tea try Grand Canyon Caverns, located outside of the park near Seligman, AZ. Cavern tours begin with an elevator ride 21 stories down and they offer several guided tour options that will take you through the largest cave in the area. Learn more.
Explore the Cave of the Domes- Cave of the Domes off Horseshoe Mesa is one of the only publicly accessible caves in the park. Grandview Trail is strenuous and once you're on the mesa there are no signs pointing you to the cave so you'll have to do some advance research to find it. Bring a good headlamp, extra batteries and a sense of adventure to explore inside the rocks of Grand Canyon.