Grand Canyon Reservations Guide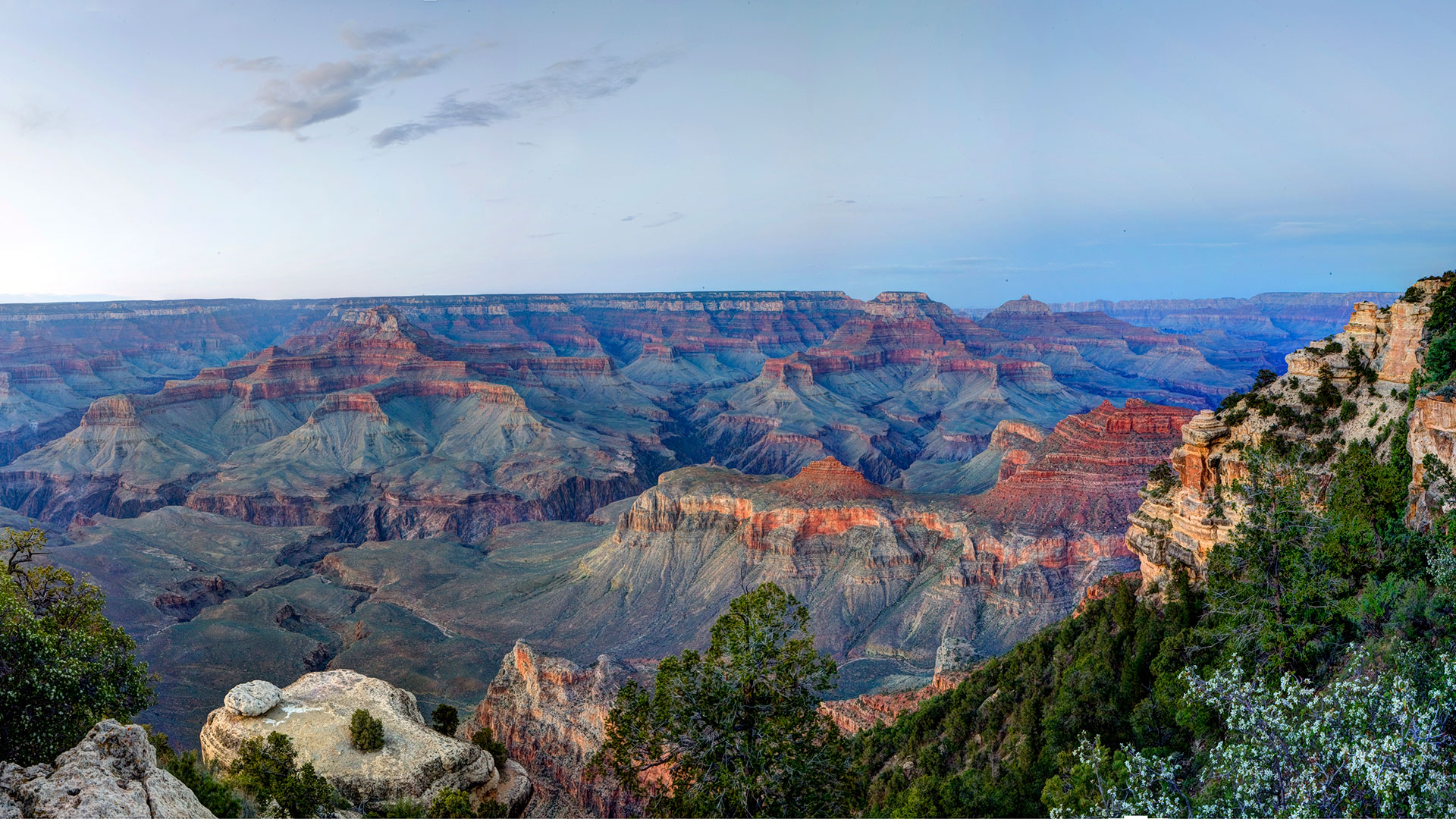 Published:
August 15, 2020
Updated 2020 Reservations Guide
With the world feeling like it's been turned upside down in 2020, many people had to postpone or cancel their trip to Grand Canyon this year. While the national park is now open again, services and access are still limited so some people have decided to just wait until next year instead to travel to the canyon. Grand Canyon Guru is here to help you find out how to get reservations for the best trip in 2021 when (finger crossed!) the canyon and world are back to normal again.
Grand Canyon gets almost 6 million visitors every year, so it is essential that you plan far in advance if you want to do any popular tour or activity or stay in lodging or campgrounds during your stay. The good news is that now is the right time to start planning (and set booking reminders on your calendar!) so that your 2021 trip is full of the activities and hotels or campsites that you want.
Although this blog was developed to help travelers affected by COVID cancellations, these timelines and tips are general enough that they will also apply to other years as well.
Grand Canyon Guru is reader-supported. When you buy through links on our site, we may earn an affiliate commission. Thanks.
Reservations – Camping & Lodging
There are many great options for camping and lodging both inside the national park and nearby. There are specific timelines for booking each of them so read below to explore which is the best fit for you and when to book it.
For how many visitors the area gets lodging in the park is very limited so you must plan far in advance or your trip. Hotels inside the park can be reserved 1.5-2 years in advance and are almost always sold out for the high season (March – October). There are sometimes last-minute cancellations available which you can get either by calling their customer service numbers or by checking at the front desk of any of the park's hotels once you arrive. If you're on a budget though, you must book early as the cheaper rooms sell out first!
There are many lodging options near Grand Canyon and while some of them might have last minute availability, you should still book as far in advance as possible. If you're traveling on a budget it is especially important to book early as the lower priced hotels tend to book up first. You can learn about the 10 best hotels at Grand Canyon on our blog.
If you're dreaming of riding a mule to the bottom of Grand Canyon or just want to stay in one of Phantom Ranch's charming rustic cabins, you'll need to enter the Phantom Ranch lottery 15 months in advance. Once the lottery is completed any unsold spots are available to the general public and you can reserve them online or over the phone.
Grand Canyon National Park Backcountry Permits
Grand Canyon National Park backcountry permits must be reserved via fax or mail and cannot be reserved online or over the phone. You should submit your request by 5pm MST on the 1st of the month that is four months prior to the proposed start date. For example, if you want to plan a backpacking trip on any date in June of 2021, you will need to submit your backcountry permit request by 5pm MST on February 1, 2021. Once you figure out the correct application date for your trip, set a calendar reminder to submit your permit request on time! To get more information check out Grand Canyon National Parks backcountry permit page.
Want to make a spontaneous trip to Grand Canyon instead? A small number of last-minute walk-up permits are available at national park Backcountry Offices for corridor campgrounds (Indian Garden, Bright Angel, and Cottonwood Campgrounds) that are issued in person only, are for one or two consecutive nights, and cannot be purchased more than one day prior to the start of a Grand Canyon hike. People begin lining up outside the Backcountry Offices hours before they open in order to get these highly coveted permits.
If you had a camping reservation at Havasu in 2020 that got cancelled, you can move your reservation to 2021 instead on the Havasupai Tribe's reservation website. If you're looking to book for the first time in 2021, you'll need to be ready to book early in 2021 because reservations sell out fast. While we don't know yet when 2021 reservations will be released, in past years camping reservations were made available on the Havasupai tribes website on February 1 at 8:00am. You can no longer make Havasu Falls camping reservations over the phone, even to check for last minute cancellations.
If you want lodging near Havasu the Supai Village Lodge is the only hotel near Havasu Falls. The hotel is also closed until further notice in 2020 but they plan to open up reservations for 2021 early in the New Year. Keep checking the Havasupai's reservation website to find out exactly when the rooms will go on sale and reserve early since rooms for the busy season sell out almost immediately. Lodge Reservations are made by calling (928) 448-2111 or (928) 448-2201. Lodge reservations cannot be made online.
National Park Campgrounds & Trailer Village
Grand Canyon National park camping reservations can be made online 6 months in advance for both Mather Campground (South Rim) and North Rim Campground. Desert View Campground is first come, first served only and fills by noon every day. Trail Village (with hookups) can be reserved a year in advance on their website. Learn more about Grand Canyon camping.
Reservations – Tours
You will need to do some advance planning for Grand Canyon tours too - rafting trips, scenic flights and guided hikes all tend to fill up during the busy summer season.
Commercial Rafting Trips
Multi-day whitewater rafting trips typically fill up years in advance so this is one trip that might be easier for you to book in light of COVID-19. Not knowing if rafting trips could even run in summer 2020, many people have already cancelled their trips so there are still openings available on most trips for the rest of 2020 – at discounted rates, no less! Rafting outfitters have gone to extensive lengths to adjust their operations to ensure their customers' safety and you can contact each company to learn more about their trips and availability. And if you're looking to ride the rapids through Grand Canyon in 2021 or beyond – book now!
If you're interested in doing a whitewater one-day trip, Hualapai River Runners have resumed operations for 2020 and are accepting reservations 3 months in advance. Flatwater float trips from Glen Canyon Dam to Lees Ferry – which go through Horseshoe Bend – are available online again starting in September 2020.
If you want to ride the rapids on your own, you'll need to enter Grand Canyon National Park's weighted lottery. Each year in February a main lottery is held to assign launch dates for river trips occurring the next year. Lottery applications are accepted online for the first three weeks of February and lottery results are emailed to applicants by the end of February. So set your calendar reminder for February 1, 2021 if you'd like a chance to raft the canyon in 2022.
Overnight mule rides to the bottom of Grand Canyon/Phantom Ranch must be booked by entering the Phantom Ranch Lottery 15-months in advance. Half-day mule rides along the canyon's South Rim can be booked one year in advance on Xanterra's website as well. Book as early as possible, especially if you want to take the 8am mule ride with its cooler temperatures and more scenic lighting in the canyon! Mule rides from the North Rim are available now through October 15, 2020 and will resume after the North Rim reopens on May 15, 2021. Book your trip on Canyon Rides website before you go.
Scenic flights are operating again with modifications to ensure safety for passengers. While some people wait to book their scenic flight until they arrive at Grand Canyon, it is always a good idea to book as far in advance as you can to get the date and time you want. Early morning and late evening tours offers the best lighting in the canyon and tend to sell out first.
You can still ride the rails from Williams, AZ into the South Rim of Grand Canyon National Park. Once you're in the national park, however, the bus tours and shuttle buses are not operating for the remainder of 2020 so don't expect to see anything beyond where the train drops you off in Grand Canyon Village. The village is still a great place to spend the day where you can enjoy epics views of Grand Canyon, explore the historic buildings that make up the Village, and grab lunch to eat outside along the canyon rim. The Railway is taking reservations more than two years in advance and we're hopeful that a train ride in 2021 will be back to normal!
You can buy your entry tickets when you arrive, or you also have the option to book online in advance so you can maintain more social distance from staff. They don't sell out so it's up to you how you prefer to pay.
Reservations - Transportation
With restricted access to the canyon and the park's free shuttle buses and paid bus tours cancelled for all of 2020 you'll need to have your own car in order to explore the canyon this year. If you're planning for next summer though, you will have an array of Grand Canyon transportation options available.
Most people choose to fly into the major airports at Phoenix, AZ or Las Vegas, NV before setting out on their Grand Canyon trip. You'll have a ~5 hour one-way drive to get to the canyon but can enjoy some scenic stops along the way. There are closer airports that offer pricier and more restricted flight options in Flagstaff, AZ and Page, AZ if you're looking to spend less time driving and more time at Grand Canyon. Most major airlines are still offering lower ticket prices and flexible cancellation policies throughout 2020 and even into 2021. Now is a great time to book your Grand Canyon flight for the future!
If the park's shuttles are operating normally in 2021, you'll likely use them to explore Grand Canyon. However, you'll still need a way to get to the canyon and for most people the best option is to book a rental car. Rental car companies are offering great prices right now and some of their discounts extend in 2021 as well.
Not only a scenic tour, but also a great mode of transportation to the canyon so you can avoid the long lines at the entrance station and congested parking areas, Grand Canyon Railway offers you a great option for riding the rails right into Grand Canyon Village on the South Rim. Read more about the Railway's operations and reservations windows in the 'Tours' section above!
Plan Now to Enjoy Grand Canyon Later
Since so many of us are dreaming of escaping into the great outdoors it's a good idea to start planning your Grand Canyon trip now. You can also use the Guru's Trip Planning Tools to learn even more about Grand Canyon, develop a customized itinerary, calculate the cost of a Grand Canyon Trip, and book tours, flights, rental cars, and hotels. We wish you the best in planning your future trip and know that once you're gazing down upon the most beautiful canyon in the world, it'll be worth the wait.
Happy Trails,
Grand Canyon Guru