Grand Canyon's Top 10 Lodges and Hotels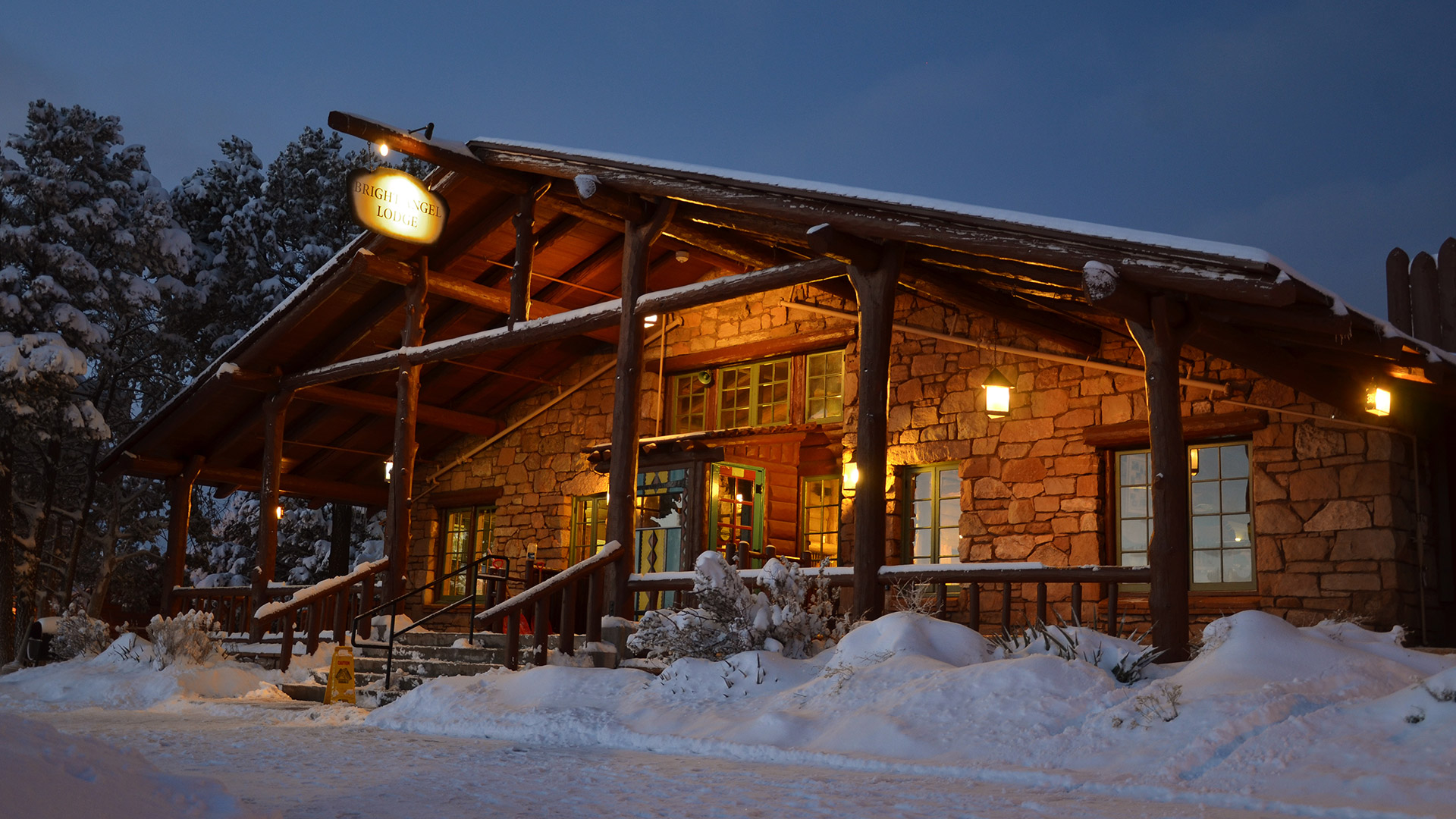 Published:
June 10, 2020
List of Grand Canyon's Top 10 Lodges
With so many lodging options to choose from both in and around Grand Canyon, the Guru's Top 10 Lodges list highlights the hotels that offer you something truly special for your Grand Canyon trip. Whether you're looking for a rustic western-style cabin at the bottom of the canyon or a luxurious hotel on the rim with an epic view, there are many memorable lodging options for you to choose from.
Grand Canyon Guru is reader-supported. When you buy through links on our site, we may earn an affiliate commission. Thanks.
1. El Tovar Hotel
This iconic Grand Canyon hotel is located right on edge of the canyon on the South Rim of Grand Canyon National Park. Designed to resemble a European style chalet the El Tovar first opened its doors in 1905 and has been meticulously maintained and updated over the years. The El Tovar is considered the crown jewel of historic national park lodges and is the only luxury lodging option inside the national park. Today the El Tovar has 78 unique rooms and many amenities including well-appointed rooms (many with a view of the canyon), a concierge, room service, and gourmet dining. Rooms are usually booked up a year in advance, but you might happen upon a last-minute cancellation if you have a flexible budget. Even if you don't stay at the hotel stop by to take in the classic western décor, browse the gift shop, eat a delicious brunch, or sip a sunset cocktail with a view.
2. Bright Angel Lodge
The colorful and charming Bright Angel Lodge is also located on Grand Canyon's South Rim just down the road from the El Tovar Hotel. This rustic western lodge was designed by architect Mary Jane Colter in 1935 and is a great option for anyone looking for a moderately priced lodging option in the park. Like most of the South Rim hotels the Bright Angel Lodge is run by Xanterra Parks and Resorts and tends to book up a year in advance. The lodging options at the Bright Angel Lodge are varied with everything from small motel-style rooms with shared bathrooms to historic cabins overlooking the rim with your own fireplace. One of the best rooms is the historic Buckey O'Neil cabin that was built by Grand Canyon Railway entrepreneur William "Buckey" O'Neil in 1890 with picturesque views of the canyon right off the front porch of this lovingly maintained suite. If you're not staying at the Bright Angel Lodge overnight still stop in for a view of the geologically accurate fireplace that Mary Jane Colter constructed out of rocks from each layer of Grand Canyon and then grab a cold ice cream cone at the Fountain and enjoy a breathtaking view of the canyon on the patio.
3. Yavapai Lodge
The largest lodge in Grand Canyon Village near the South Rim, the Yavapai Lodge is an easy 20-minute walk from the rim of Grand Canyon and offers comfortable rooms without a steep price tag. Completely remodeled a few years ago, Yavapai Lodge now features a great array of dining options including the main restaurant that serves Southwestern fare as well as classic crowd-pleasing options, a tavern with comfortable outdoor seating and fireplaces, and a coffee shop with espresso and great grab-n-go food. Centrally located, the lodge is right next to the general store, post office and bank and has two convenient shuttle bus stops out front making it a great base camp for adventure. The Yavapai Lodge is the only pet friendly lodge inside the national park and they also have several family rooms with bunk beds to accommodate larger families. With air conditioning and private bathrooms in all their rooms, the Yavapai Lodge is a comfortable and convenient option for everyone.
4. Grand Canyon Squire
The Best Western Premier Grand Canyon Squire Inn is located in the gateway community of Tusayan, Arizona just a few miles from Grand Canyon National Park's south entrance. As one of only 26 Best Western Premier properties around the world, the Grand Canyon Squire has 318 rooms and suites and offers more amenities than any other hotel in or near the park. You'll find three restaurants (from casual to fine dining), a cozy cocktail lounge, and comfortable outdoor pool-side bar where you can unwind at the end of the day. With newly renovated indoor & outdoor pools, business center, fitness center and gift shop, as well as a bowling alley, billiards, and arcade, there's something for everyone to enjoy, from couples to families. If you're looking for premier lodging near the South Rim look no further than the Best Western Squire Inn.
5. The Jacob Lake Inn
Nestled among the towering ponderosa pines an hour north of Grand Canyon National Park's North Rim, Jacob Lake Inn is a classic roadside motel full of charm and delicious sweet treats. The affordable rooms have been lovingly updated in a Southwestern style and you can choose between basic hotel or motel rooms or book a charming historic cabin and enjoy an evening cocktail on your own ponderosa pine deck. The Inn's restaurant is located inside the lobby where you can grab a seat to enjoy the full menu, or you can grab a dozen of their world-famous fresh baked cookies to fuel your day of exploring Grand Canyon. This is the closest lodging to the North Rim and provides a relaxing place to unplug and get away from it all.
6. Grand Canyon North Rim Lodge
This historic grand lodge sits right on edge of the North Rim of Grand Canyon National Park and is the only lodging option on this side of the park. Open from mid-May through mid-October, you'll have access to world-class hiking, mule rides and awesome views right outside the lodge. Constructed from native Kaibab limestone and timber in 1928, the scenic North Rim Lodge offers both simple motel rooms and western style cabins for visitors to choose from. The dining room has delicious food as well as incredible canyon views or you can get tasty grab'n'go options from the deli or coffee shop. The Roughrider Saloon is a great place to cool down and reminisce at the end of a day of exploring. Two of the lodge's best features are the massive indoor sunroom with its floor to ceiling windows and the vast outdoor patio where you can comfortably take in sweeping canyon views from a bench or chair.
7. Marble Canyon Lodge
Located at the base of Vermillion Cliffs near Lees Ferry this remote lodge is a great place to explore and relax. Marble Canyon is the beginning of Grand Canyon National Park and the Marble Canyon Lodge is a great place to stay for river runners, anglers and park visitors looking for a unique Grand Canyon experience. Originally a trading post for the Navajo Nation, today's lodge offers both motel rooms and apartments for modern day adventurers to explore this lesser known corner of Grand Canyon. A great jumping off point for many area highlights, a day trip will bring you to Lees Ferry (where you can touch the Colorado River), Navajo Bridge (a great place to check for roosting California condors), the California condor release site, and even the canyon's North Rim. On-site amenities keep you comfortable including the restaurant, bar and gift shop that features handmade jewelry and pottery made by local artisans.
8. Phantom Ranch
Located at the bottom of the Grand Canyon, Phantom Ranch offers a unique basecamp for adventure. Quaint stone and wood cabins are nestled between the narrow canyon walls and shaded by cottonwood trees, making this is a one of a kind Grand Canyon lodging experience. The ranch's prime location gives you quick access to many of the area's highlights including the corridors trails (Bright Angel Trail, North Kaibab and South Kaibab Trails), Bright Angel Creek, and the mighty Colorado River. The only way to get to Phantom is by hiking, riding a mule, or a taking multi-day whitewater rafting trip, so the ranch's hearty meals, cold drinks, and comfortable beds are a very welcome luxury in the middle of the desert. Phantom Ranch has both dormitories and cabins that must be booked via a lottery system 15 months in advance. The Phantom Ranch Canteen offers breakfast and dinner for guests as well as snacks, ice cold drinks and sack lunches during public hours.
9. Havasupai Lodge
The only other lodging at the bottom of Grand Canyon is also an easy 2-mile walk from the canyon's most famous turquoise waterfall: Havasu Falls. The Havasupai Lodge is located in Supai Village (on the Havasupai Tribe's ancestral lands) and is accessible via hiking or the occasional helicopter ride. The lodge offers 24 basic rooms all with two double beds, private bath and AC, but no telephones or televisions. These rooms often fill up a year in advance so be sure to call for reservations well before your trip. Nearby, there is a small cafe that serves breakfast, lunch and dinner, as well as a general store and post office where you can get your mail packed out by mules. If you want to explore the gorgeous red rocks and turquoise waterfalls of Havasu and you're not into camping, this is the perfect lodging for you!
10. Arizona Luxury Expeditions
If you're looking to do a little glamping on your Grand Canyon trip, Arizona Luxury Expeditions offers an affordable and adventurous option. Arizona Luxury Expeditions provides extra-large expedition style tents fully outfitted with chairs, fans/heaters, lighting and queen-sized beds dressed up in cozy covers. Nestled in the forests near Grand Canyon, you'll have all the comforts of home including gourmet breakfast, lunch and dinner prepared and served by your tour guide and all sites have showers and toilet facilities. Your expert tour guide will of course take you to Grand Canyon's highlights before you retire to your private campsite to reminisce about the day and gaze at the river of stars overhead.