2023 Grand Canyon Spring Break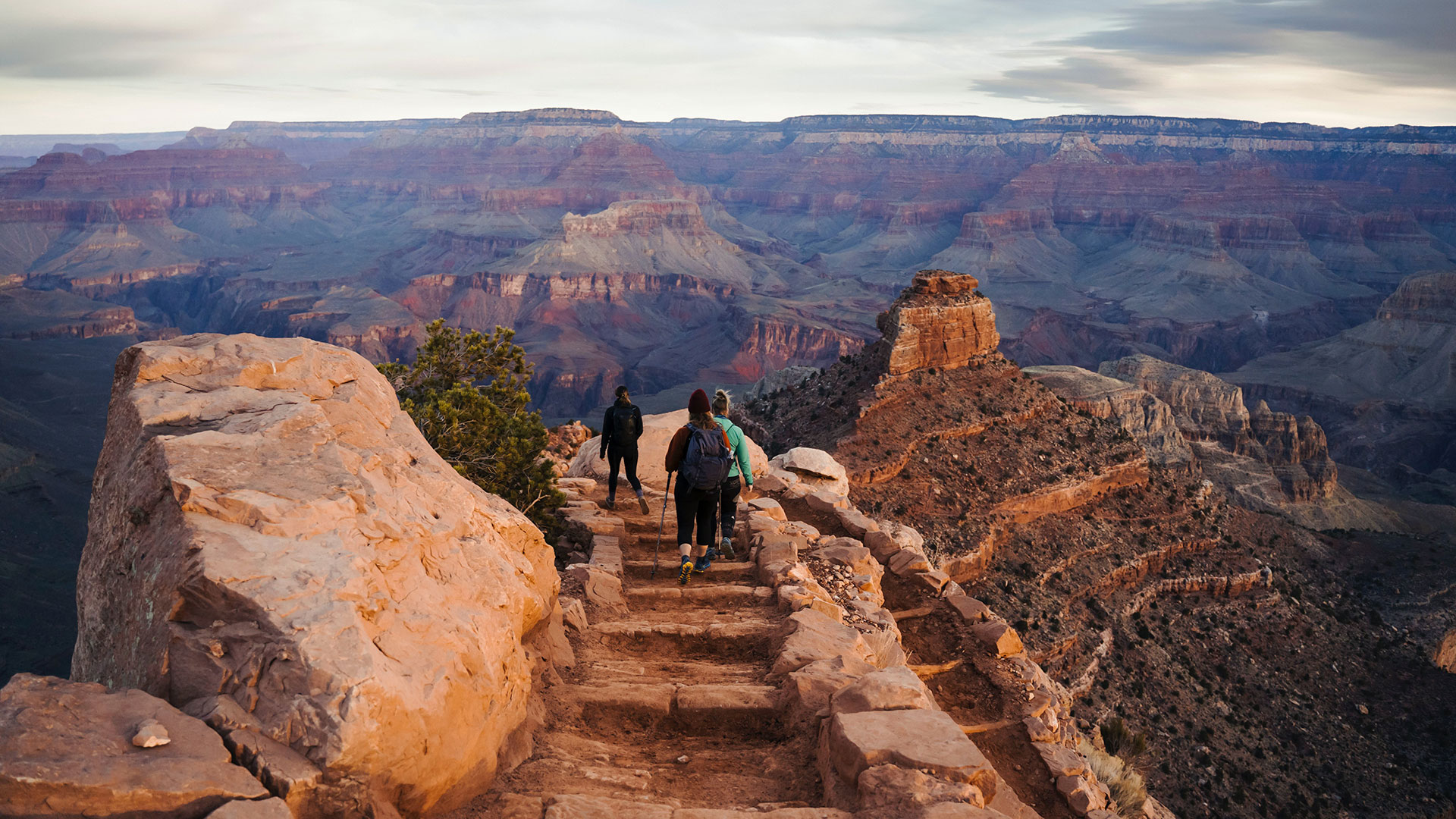 Published:
March 11, 2023
Plan the Best Last-Minute Spring Break Trip to Grand Canyon
Every year, more than 6 million people visit Grand Canyon to take in the sights, camp, hike, raft, and more. Spring is arguably one of the best times to go to Grand Canyon because the mild temperatures make exploring on foot much more enjoyable than in the sweltering summer months. The combination of great weather and lots of families setting out on spring break adventures mean that Grand Canyon can be crowded and also fully booked in March and April. Haven't booked your hotel yet? Didn't get a campground reservation 6 months ago? Didn't apply for a backcountry permit already? Don't fret! There are still many great ways to explore the canyon this spring!
Grand Canyon Guru is reader-supported. When you buy through links on our site, we may earn an affiliate commission. Thanks.
Lodging
If you don't already have a reservation for a hotel inside the park, your only hope of getting one is to call the customer service number to check for any last-minute cancellations. If you're willing to put in the time and sit on hold you might just get lucky!
Reservations for the El Tovar Hotel, Kachina Lodge, Thunderbird Lodge, Bright Angel Lodge, Maswick Lodge, and Phantom Ranch can be checked by calling 888-29-PARKS
Reservations for Yavapai Lodge can be checked by calling 877-404-4611
Same thing goes for the nearby hotels in Tusayan – they will already be fully booked so you'll need to call to see if you can grab a cancellation. Check out our Tusayan Hotels page for a complete list of hotels.
The better bet though is to plan to stay in one of the fun gateway communities and make exploring them a fun part of your spring break trip as well! About 1-hour south of Grand Canyon's South Entrance, you'll find William, AZ. This old Route 66 town boasts both old-timey motels as well as more modern chain hotels. The town itself offers a walkable downtown, great food, and fun activities for the whole family. Another great option is to stay 1.5 hours southeast of Grand Canyon's South Entrance in Flagstaff, AZ. Flagstaff is a destination in and of itself with its world-class breweries, charming historic downtown, and great outdoor activities that everyone will enjoy. Willing to drive even a little further? The epic red rocks of Sedona, AZ are 2.5 hours south of Grand Canyon and there you will find 5-star resorts, fine dining and great hiking trails, often right out the front door of your lodging.
Grand Canyon Camping
Reservations for the park's Mather Campground can and should be made 6 months in advance. If you don't have a reservation you won't be able to get a last-minute spot when you arrive. The nearby Ten-X Campground doesn't open until mid-May so it won't be an option during spring break. If you really want to camp and are willing to drive, you could always opt to stay at nearby RV parks like the Williams KOA. The only option for last-minute camping along the South Rim will be to disperse camp near the Grandview Fire Tower. As you drive east from Grandview Point to Desert View, follow signs on the right side of the road for the Arizona Trail/FR 310. Once you cross the cattle guard you are in the National Forest and can disperse camp, free of charge, anywhere in the area. Be sure to follow Leave No Trace guidelines while in the area – bring plenty of water, pack out all trash, be thoughtful about where you go to the bathroom and properly bury your waste, and camp in areas that are already impacted. This area offers you a convenient camping spot in the heart of the South Rim – no reservations required!
Grand Canyon Backpacking Permits
Spring break is a beautiful time to embark on a backpacking trip into the canyon. The cooler temperatures make for much more enjoyable treks and backcountry permits are hard to come by for this reason. Whether you didn't know you need to apply four months in advance or you didn't get the permit you already applied for, don't lose hope! You could still try to get a last-minute permit for the popular "corridor campgrounds" which include Indian Garden (along the Bright Angle Trail), Bright Angel Campground (at Phantom Ranch), and Cottonwood (along the North Kaibab Trail). These permits are issued in-person only for one or two consecutive nights and cannot be purchased more than one day before the start of the hike. The South Rim Backcountry Information Center opens at 8am but people have been known to form a line hours before they open in hopes of getting one of the highly coveted permits. Waited in a line and still didn't get a corridor permit? Consider getting a permit for one of the lesser-visited parts of the canyon instead! Every trail into the canyon leads you to intriguing and beautiful backcountry areas and trailheads like Hermit, Grandview and Tanner will give you much better chances of getting a permit if you're prepared to carry more supplies with you.
Smooth Water Rafting and Kayaking
Black Canyon National Water Trail: Located on the way to the Grand Canyon from Las Vegas is an awesome section of river just below the Hoover Damn. If you're coming to the canyon from Vegas there's several guided and self-guided options to paddle this smooth water section of the Colorado River. Along the way are natural hot springs like Arizona Hot Springs and Black Canyon Springs as well as the popular destination Emerald Cave, a beautiful grotto along the river that you can kayak into. Since whitewater rafting can still be a bit chilly during the spring break season, this is a great alternative to get on the river. You can learn more by reading our smooth water rafting guide or check out Lake Mead NRA's trip planning page.
Beating the Wait at the Gate & Where to Park
Grand Canyon experiences a crush of visitors throughout March and April as families and college students flock to the canyon. There can be significant waits at the gate (1+ hours) if you arrive after 8am. Don't arrive at the canyon one hour before sunset and expect to catch the view – you'll spend sunset waiting in line instead! If you can't arrive at the park before 8am and want to still get in with a minimal wait, consider taking a tour into the park instead. Grand Canyon Railway runs every day of the year and allows you to sit back and relax on your journey to the canyon before you are dropped off right in the heart of Grand Canyon Village. Many of the local 4x4 tours enter the park using dirt roads that skip the lines and get you straight to the views. If you do decide to drive and can't find a parking spot at the Grand Canyon Visitor Center Plaza, head to the Backcountry Information Center parking lot (Lot D). There you will almost always find parking – including for large RVs and trailers – within an easy walk of the canyon rim.
Avoid the Shuttles & Hit the Rim Trail Instead
One of the biggest complaints about the national park at spring break is how crowded the free shuttle buses are. With every parking spot full, the shuttles are maxed out on how many people they can transport and that means you might end up waiting for 45+ min to even get onto a bus. The best way to avoid spending half your trip waiting for the shuttle? Hike the scenic Rim Trail instead. The Rim Trail parallels the South Rim for 13 miles and offers the most scenic views of the canyon along the way. Park either at the Grand Canyon Visitor Center Plaza or the Backcountry Information Center and then you can choose to walk either east or west as long as you'd like. Whether you decide to walk both ways on foot or plan on waiting for one of the free shuttle buses to get back to where you started, you'll be glad that you took advantage of the great weather to explore on foot!
Bring Your Own Food & Drinks
With so many people at Grand Canyon, there can be significant waits to get food whether it is at one of the many hotels or grab'n'go options. The best bet is to bring everything you need with you so you can just find a scenic spot at the rim of the canyon for the picnic of a lifetime. Want to enjoy a drink at sunset? Rather than waiting for one of the few tables at the El Tovar's scenic bar, bring your own beer or a nice bottle of wine and enjoy it right at the edge instead as the sun goes down.
Dress for the Weather
Remember that weather can go from hot to cold very quickly in the spring. It might be downright cold on the canyon rim as you catch sunrise but you will be hot if you go hiking below the rim. Bring layers so you're ready for everything from hot to cold to even snow!
Enjoy Spring Break at Grand Canyon
Spring break is, hands down, one of the best times to be in the park. If you didn't make reservations but still want to enjoy the canyon during this magical time of year being flexible and self-sufficient will make your trip not only possible but really enjoyable, too! Wishing you the best as you explore the park and hit the trails this spring!