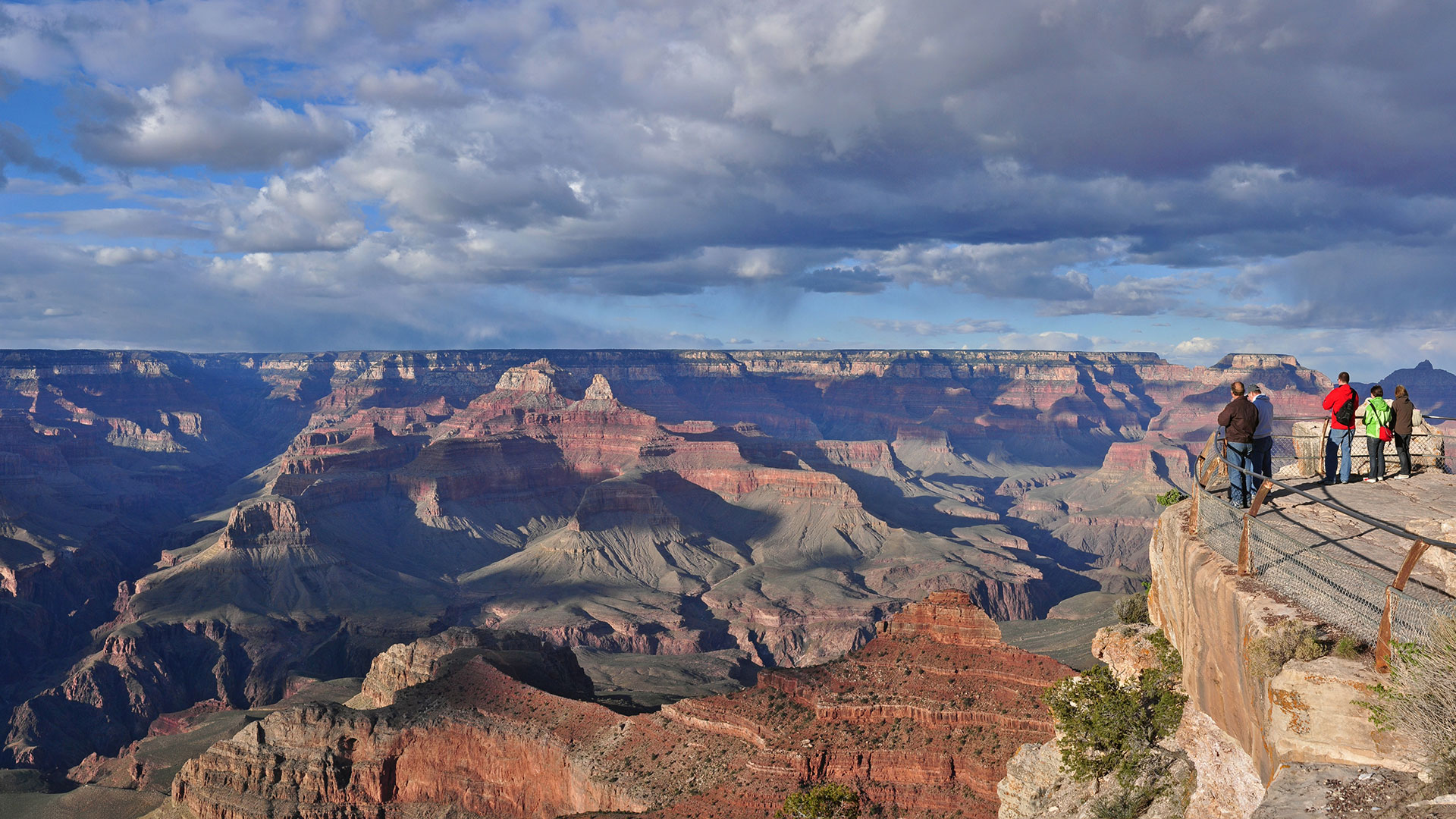 How to Visit Grand Canyon During COVID-19
With all of the changes to our daily lives during COVID-19, it's no surprise that many of us are yearning for some fresh air and some quality time in nature to reset our bodies and minds. And what place is more appealing than Grand Canyon with its sweeping vistas and wide-open spaces? The good news is if Grand Canyon was on your list of places to visit this summer, you don't have to cross it off! The National Park Service is taking measures to ensure that people can visit and explore safely as long as you know where to go and what to expect. The Grand Canyon Guru is here to guide you so you can still safely enjoy the best of Grand Canyon during COVID-19.
Day Trip Itineraries for Visiting Grand Canyon National Park During COVID-19
With some parts of the park open while others are closed and limited services available, visiting Grand Canyon this summer will be different. Knowing where to go will not only keep you safer but also make your visit more enjoyable. The Guru is here to offer you some helpful ideas about how to visit the canyon the way that you want to.
Best Day Hike Along the Rim
Also the best rim day hike in a normal year, you're not going to be able to beat hiking along the Rim Trail out towards Hermits Rest during COVID-19. Since the park's shuttle buses are not operating this summer, that means that there will be even fewer people out at the world-class overlooks, keeping you safe from the crowds and while also giving you the views of a lifetime. The trick to doing this hike right without the park shuttle buses is knowing where to park. The Rim Trail starts at the west end of Grand Canyon Village, which is notorious for its extremely crowded parking lots. Skip the hassle of parking in the Village and head to the Backcountry Information Center parking lot (Parking Lot D) instead. You should easily be able to get a spot and it's even RV/trailer friendly. From there walk on the paved path past the Maswik Lodge and toward the rim. You'll get your first view of Grand Canyon at the Village Route Transfer shuttle bus shelter and you'll turn left/west and walk as far as you like along the Rim Trail. It starts out with a rather steep incline up to the first overlook, Trailview Overlook, but levels off into a more rolling trail along the rim after that. Since Hermit Road is 8 miles away, you can hike as little or as far as you like and the further you go, the fewer people you'll see. Keep an eye out for California Condors soaring overhead, especially if you're out in the afternoon!
Guru Tip: If you're doing this hike mid-June through mid-September, hit the trail early in the morning and get back by lunchtime to avoid the possibility of getting caught in a monsoon thunderstorm in the afternoon. Without the shuttle buses running, there is very little shelter along the Hermit Road once storms rolls in!
Best Bike Ride
Without the shuttles running and with no cars either, Hermit Road is also going to offer you the most incredible and scenic ride of your life this summer. The most important thing to know before you go is that since Bright Angel Bicycles isn't open for bike rentals, you'll have to bring your own bikes to enjoy this trip. Park in the Backcountry Information Center parking lot (Parking Lot D) and ride to the canyon rim past the Maswick Lodge. You'll huff and puff up the steady uphill that takes you to Trailview Overlook but from there you'll enjoy a well paved, rolling road with views of the canyon along the way. You'll see fewer and fewer people as you travel along so take advantage of the quiet when you stop at Pima Point where you can actually hear the Colorado River's rapids raging at the bottom of the canyon. From Pima Point you can choose to travel on the paved greenway trail for better views or stick to the road to avoid riding close to other hikers and bikers. If you ride the whole Hermit Road you will cover 16 miles and get to see some of Grand Canyon's most famous views without the crowds!
Guru Tip: If you're doing this bike ride from mid-June through mid-September, hit the road early in the morning and get back by lunchtime to avoid the possibility of getting caught in a monsoon thunderstorm in the afternoon. Without the shuttle buses running, there is very little shelter along the Hermit Road once storms rolls in!
Best Hike on Corridor Trails
Grand Canyon's corridor trails are popular because they offer hikers well-maintained paths into the heart of Grand Canyon. While they are popular because they are easier (note: not easy, just easier) than other inner canyon trails, it also means that you are likely going to have a really challenging time social distancing while you hike. If you're looking for a safer corridor trail hike with fewer people on it, head out the South Kaibab Trail this year. Since the park's shuttle buses aren't running you'll have to hike a few extra miles along the flat and paved Rim Trail to even get to the trailhead (which is normally accessible via the shuttle bus and is never open to cars) which means that fewer people than ever are going to be hiking on the trail once you get there. The closest reliable parking is at the Grand Canyon Visitor Center Plaza which puts you an easy 2.2-mile, one-way hike from the trailhead. Do not try to save yourself these miles by parking along the shoulder of Desert View Drive or blocking the gate to the South Kaibab Trailhead road - you will get ticketed, if not towed. If adding 4.4 miles to your hike doesn't sound appealing or you're concerned about passing hikers who may or may not be wearing a mask while breathing heavily, skip the corridor trails entirely this summer.
Best Scenic Hike to Avoid Crowds
By far the safest and best hike this summer will be the hike to Shoshone Point. With its tiny parking lot (read: social distancing is being enforced just by the size of the parking lot!) and wide roadbed "trail" you will be able to easily social distance and get an incredible view of the canyon as well! Once you turn onto Desert View Drive from South Entrance Road, keep your eyes out for mile marker 246 and the small dirt parking lot on the left side of the road. There's a locked gate blocking car access to the dirt road that hikers can walk around and follow for one mile to the rim of the canyon. Explore the rocky point then find a scenic spot to yourself and feel both safe and satisfied at the same time!
Best Scenic Drive
With the park's shuttle buses shut down during COVID-19, the only way to see the canyon without hiking this summer will be a driving tour along Desert View Drive. All visitors must now enter and exit the South Rim through the South Entrance (via Tusayan, AZ) so make sure that you have time to do this drive as an out and back. The road is only accessible until Navajo Point (~22 miles one way) and is shut beyond that to limit access into the Navajo Nation which is just outside the east boundary of the national park. This year you will not be able to access the Desert View area which means you cannot climb the Watchtower, nor can you refill your car with gas at the gas station. But don't be discouraged: Desert View Drive still offers you some of the most memorable views of Grand Canyon that you'll find anywhere along its 277 miles. Stops at Grandview Point, Moran Point, Lipan Point and Navajo Point will show you different angles and views and you'll see more and more of the Colorado River at the bottom of the canyon as you head east. Remember to bring your mask and social distance at the overlooks. Once you're at Navajo Point, turn around and head back to explore Grand Canyon Village or exit the park via the South Entrance again.
Protect Yourself and Others by Following Local and CDC Guidelines and Regulations
While we're all familiar with these guidelines already, they're worth repeating. With a little bit of care, you can still explore Grand Canyon safely this year. Remember:
Masks are required (per Coconino County regulations) in any indoor public space as well as at any outdoor space where you can't social distance by at least 6ft. Masks are also required in all indoor spaces in the Navajo Nation (which you will travel through if you're coming from Page, AZ, Kanab, UT, Four Corners, etc.)
Practice social distancing, even when outdoors. Reduce your risk by avoiding crowded overlooks and trails.
Wash your hands frequently.
Stay home when you're sick.
What is Open at Grand Canyon National Park
Please check the Grand Canyon National Park website for the most updated information on what is opened and closed, as it could change at any time throughout COVID-19.
The South Entrance (via Tusayan, AZ) is open 24 hours/day. Pay your entrance fee at the automated fee machines or, better yet, purchase your 7-day pass in advance through recreation.gov.
Services are limited on the South Rim and the following services are available:
Regular sites at Mather Campground are open for existing reservations but group sites at the campground are closed. Trailer Village is open. Camper Services is closed so there are no showers or laundry available.
Verkamp's Visitor Center in Grand Canyon Village, near the El Tovar Hotel, is the only place to talk to a park ranger.
Canyon Rim Trail and Greenway Trails are open outside of the residential area for park employees. Signs are posted.
Desert View Drive is open from Pipe Creek Vista to Navajo Point (~22 miles). You cannot exit via Desert View/Hwy 64E due to restrictions on entering the Navajo Nation.
Grand Canyon Railroad.
All South Rim Lodging: El Tovar Hotel, Bright Angel Lodge, Kachina Lodge, Thunderbird Lodge, Maswick Lodge, Yavapai Lodge,
Phantom Ranch cabins.
Mules Rides are running every day
Some South Rim Restaurants/Grab'n'Go: El Tovar Dining Room, El Tovar Food Truck, Bright Angel Lodge Fountain, Maswick Lodge Cafeteria, Yavapai Lodge Coffee Shop.
Shopping: Canyon Village Market and General Store, Grand Canyon Conservancy Park Store (at Visitor Center Plaza), Hopi House, Lookout Studio
Grand Canyon Clinic by appointment only.
Other Services: Post Office, Chase Bank.
The North Rim is open only for overnight guests staying at the North Rim Lodge. Services are limited and include:
Grab'n'Go Food Service: Grand Canyon Lodge Saloon and North Rim General Store.
Gas Station.
Mule Rides are running.
Inner canyon trails throughout the park are open for day hikes and are also accessible to anyone with an existing backcountry permit. New backcountry permits are not being issued for July or August but are being issued for September.
River Trips are running in the park, but no new permits are being issued at this time.
Private, non-commercial river trips with current permits can launch. Contact the Grand Canyon River Permit Office for more information on potential impacts to your trip at grca_riv@nps.gov
Commercial river trips are running but with modifications to increase passenger safety during COVID-19. Contact the river company directly for more information about impacts to your trip.
What is Closed at Grand Canyon National Park
Please check the Grand Canyon National Park website for the most updated information on what is opened and closed, as it could change at any time throughout COVID-19.
There are many closures that will affect how you visit Grand Canyon right now. Planning ahead and bringing what you need will make your trip more enjoyable.
Closures on the South Rim include:
The East Entrance (Desert View/Hwy 64E entrance) is closed to reduce the spread of COVID-19 to the neighboring Navajo Nation.
The park's shuttles buses are not running which means you cannot access the Hermit Road or South Kaibab Trailhead except on foot or bike.
Desert View Watchtower and all of the facilities and services at Desert View are closed. Because of this, there is no gas available anywhere along the South Rim this summer. Tusayan Museum is also closed.
Most South Rim Visitor Centers and Museums: Grand Canyon Visitor Center and theater, Kolb Studio, and Yavapai Geology Museum are closed.
The South Rim Backcountry Information Center is closed.
Group sites at Mather Campground, as well as Camper Services which means there are no showers or laundry for campers on the South Rim.
Commercial Bus Tours (half to day-long bus tours that start inside the park) are not running.
South Rim Kennel is closed so make alternative plans for your pets before you arrive.
Bright Angel Bicycles is not renting bikes or leading guided tours at this time.
All park ranger programs are cancelled.
The North Rim at this time is only open to overnight guests with existing reservations at the North Rim Lodge. The following are closed:
The North Rim is closed to day use – only those with Lodge reservations can enter.
North Rim Campground.
North Rim Visitor Center/Backcountry Information Center.
Other Parts of Grand Canyon
Other parts of the canyon are also impacted by COVID-19 which might affect your plans. Outside of Grand Canyon National Park, the following areas currently have access as follows:
Grand Canyon West
Grand Canyon West reopened on June 1st and is offering discounted admission to the Skywalk through December 31, 2020. You'll find restrictions in place to ensure social distancing and you are expected to bring and wear a mask as you explore the area.
Havasupai Falls/Supai Village
This area is currently closed to all tourism and there is no access to the waterfalls, campground or lodge. There is no projected reopening date.
Lees Ferry
Lees Ferry boat ramp and restrooms are open. All other facilities and trails are closed, including the campground. Check the Glen Canyon National Recreation Area website for current conditions.
Horseshoe Bend
The parking lot and trail to Horseshoe Bend are open. Check the City of Page's website for the most up-to-date information.
Stay Safe and Enjoy Grand Canyon
Grand Canyon's incredible expanse of 277 miles offer all of us the chance to get out there and explore, even during COVID-19. We hope this information allows to you feel confident enough to embark on a national park adventure where you can safely take in views of the largest canyon on Earth. Once you're at the canyon, take some deep breaths, relax and enjoy the moment.