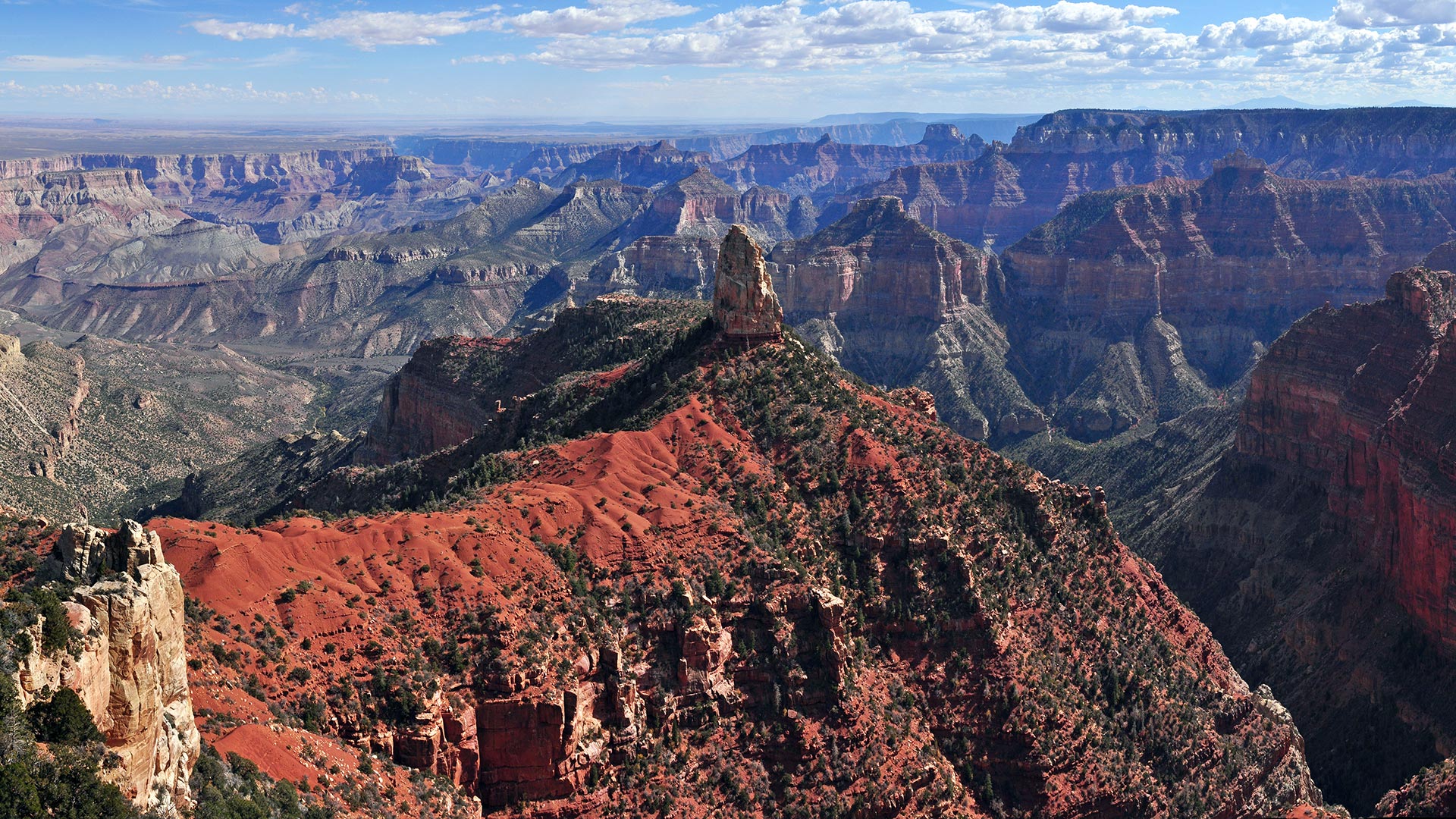 Published:
August 1, 2020
Visiting the Grand Canyon in November (Updated for 2020)
While most visitors come to Grand Canyon National Park in the summer and early fall, November can be one of the best months to visit the canyon. With fewer crowds throughout the park, travelers who enjoy a bit more solitude will really appreciate having a more peaceful canyon experience. Although temperatures drop and snow is possible, sunny days and warm temperatures are common and November can offer some of the best weather all year.
Below are a few ideas to help plan a November you'll remember at the world's grandest canyon. You definitely need to be a bit more flexible and adventurous this time of year but having the North Rim to yourself or enjoying a hike or backpack without hordes of tourist is well worth a bit of uncertainty.
Grand Canyon Guru is reader-supported. When you buy through links on our site, we may earn an affiliate commission. Thanks.
Go for a hike
Hiking the canyon in November is as good as it gets! While the masses hoof it up and down the South Rim trails in the sweltering summer months and backcountry hikers max out permits for September and October, November is a great time to hike. If you're interested in a day hike the South Rim and North Rim (if accessible) both have great options with a lot less traffic on the trail this time of year. If you like to backpack, permits are much easier to get in November, especially if you're willing to get on the wait list at the Grand Canyon backcountry office. Because roads are not maintained on the North Rim and facilities are closed after October 15th, it's usually better to stick with the South Rim for backpacking trips. If you need more information on hiking or backpacking check out the backcountry permit page on Grand Canyon's website.
Head to the North Rim
The North Rim is closed in November, isn't it? Facilities on the North Rim of the Grand Canyon including hotels, restaurants, stores, gas stations and park offices are closed after October 15th. The main road to the North Rim (Hwy 67), however, remains open until the first big snowstorm or until November 30th, whichever comes first. This means that for much of November you can stop at a viewpoint, do a hike, or hang out in a beautiful meadow all by yourself. If you need lodging the Jacob Lake Inn, about 45 minutes from the North Rim, is the closest place to stay and offers great off-season rates.
If the weather turns wintery, head back down to Marble Canyon and Lees Ferry to check out the Colorado River and the beginning of Grand Canyon. There are other great year-round lodging and restaurant options at nearby Cliff Dwellers Lodge and Vermillion Cliffs Lodge as well.
Check out the view
Everyone who visits Grand Canyon National Park wants to see an amazing view and you'll find one no matter where you are. Although it's nice sharing an awesome vista with your friends and family, huge summer crowds can dull the experience. With far less visitation, November is a great month to have a little more peace and quiet while you take in the canyon's splendor. On the South Rim, Desert View drive has many overlooks you can drive to in the comfort of your own car. Instead of trying to find out what other people say the best view is, check out all of them for yourself and find one where it's just you and the canyon.
If it's still busy along Desert View Drive, hop on the park's free shuttle and head to Hermits Rest. There are multiple scenic stops and an easy trail that parallels the road with numerous vistas to take in along the way. You can also head to Bright Angel bikes and rent a bike to cruise along Hermit Road instead. Hermit Road is only open to shuttles, hikers, and bikers so you can enjoy great views with a lot less visitation than other areas along the South Rim.
Seek Shelter and Stay Low
If the canyon does get some bad weather during your visit and the rim is blanketed in a fresh dusting of snow, get a photo! If it's just plain nasty, get inside. The El Tovar, Kolb Studio, Lookout Studio, Yavapai Geology Museum and Desert View Watchtower have amazing indoor canyon views as well as some cool art, exhibits, souvenirs and, in the El Tovar, some good drinks too. The Grand Canyon Imax in Tusayan (right outside the park) is also a warm and comfortable way to see the canyon, especially if winter weather is making it hard to get the epic real-life views you were hoping for.
If you still want to get fresh air and avoid the cold and snow, stay low. The lower your elevation, the warmer it will be, and you will be taking off layers in no time as you hike down into the canyon. If you're up for a hike to the bottom of the canyon, see if there's space for camping or lodging at Phantom Ranch. If you're interested in doing something a bit more mellow drive across the picturesque Painted Desert of the Navajo Nation to Lees Ferry. This is where Grand Canyon National Park starts and Vermillion Cliffs and Marble Canyon are great places to explore with a warmer landscape that is very different from the rest of the canyon.
Guru Tips to Plan Your November Trip
There are even more ways to enjoy Grand Canyon National Park and the surrounding area throughout November. Grand Canyon is a great destination any time of the year, but November offers a unique window for weather, activities, and solitude that make it one of our favorite months!
Reserve your hotel or campground in advance
Book a tour or ticket before you get to the canyon
Get geared up
More resources for your November vacation