Grand Canyon Fall 2023 Adventure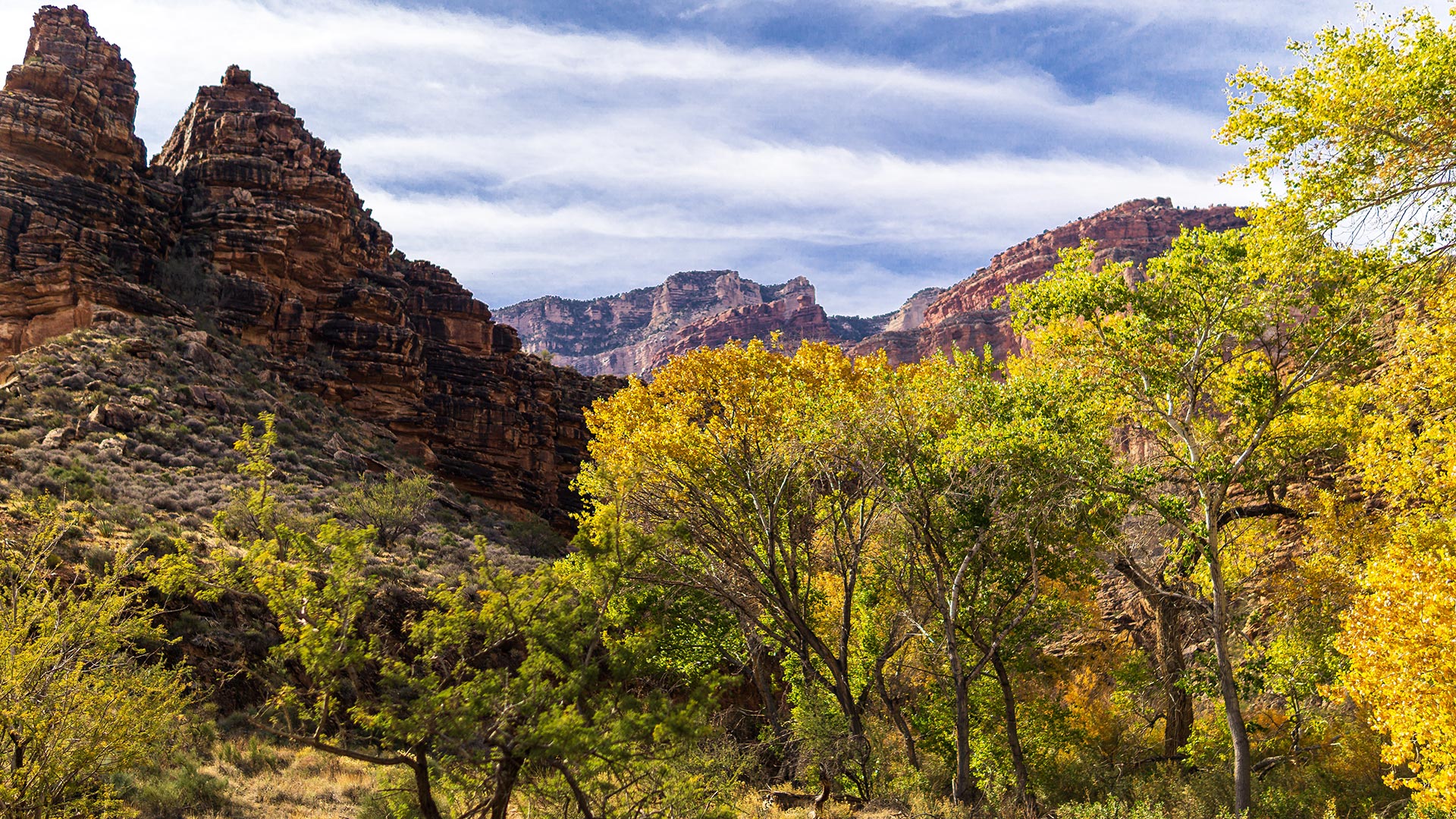 Published:
August 29, 2023
Embrace the Spirit of Adventure: Your Fall 2023 Guide to the Grand Canyon and Beyond
Hey there, fellow adventurers and nature lovers! As the summer heat fades and the landscape transforms with autumn hues, it's the perfect time for a journey to the magnificent Grand Canyon and its enchanting surroundings. Join us for an exciting guide to your fall adventure, exploring the Grand Canyon and the captivating wonders that await you in the Southwest.
Discover the Grand Canyon: A Natural Marvel in Fall
Imagine standing on the rim of the Grand Canyon, gazing into a masterpiece sculpted by nature's hand. From September to November, the fall season transforms the Grand Canyon into an extraordinary destination that goes beyond sightseeing.
Top Adventures at the Grand Canyon:
Rim Trails: Imagine taking a leisurely stroll along the rim, with each step revealing breathtaking vistas that leave you in awe. From Mather Point to Yavapai Point, each spot has its own unique charm.
Guided Exploration: Experienced guides are more than just tour leaders – they're passionate storytellers who unveil the secrets and mysteries etched within the canyon's rocks.
Hiking below the Rim: For those who want to immerse themselves in the heart of the national park experience, hiking below the rim is a must. Trails like Bright Angel and South Kaibab offer an opportunity to explore the depths of the canyon like never before, especially with the crisp fall weather.
Sunrise and Sunset Magic: There's something truly magical about watching the Grand Canyon transform under the warm hues of sunrise and sunset. Lipan Point and Desert View Watchtower offer the perfect vantage points for these breathtaking moments.
Beyond the Canyon: Exploring Nearby Treasures
But wait, there's more beyond the Grand Canyon! The Southwest is a treasure trove of captivating destinations waiting to be explored.
Where to Rest and Grab a Bite: Accommodation and Dining Suggestions
Grand Canyon:
El Tovar Hotel: Transport yourself to a bygone era of elegance and stunning views. The El Tovar Hotel, perched on the canyon's edge, offers an unforgettable stay. Make sure to secure your reservation well in advance.
Maswik Lodge: Conveniently located near the South Rim, the Maswik Lodge offers cozy accommodations and easy access to the canyon's wonders. It's the perfect spot to unwind after a day of adventure.
Grand Canyon Squire: Experience comfort and convenience at the Grand Canyon Squire. Nestled close to the action, it provides a cozy retreat with a touch of modernity, allowing you to rejuvenate for more adventures.
Neighboring Getaways:
Amangiri, Utah: Get ready for a luxurious retreat near Bryce Canyon. Immerse yourself in the stunning landscape while enjoying opulent amenities for an indulgent yet adventurous experience.
Enchantment Resort, Sedona: Nestled in Boynton Canyon, this resort invites you to relax amidst breathtaking red rock vistas. It's a haven of tranquility that complements your exploration.
Under Canvas Page Lake Powell: Immerse yourself in the magic of Lake Powell at Under Canvas. Experience the beauty of the outdoors while enjoying the comforts of glamping. It's a unique way to connect with nature and unwind.
Savor the Flavors: Southwest Dining Delights
El Tovar Restaurant: Treat your taste buds to the vibrant flavors of the Southwest at the El Tovar Restaurant. From Navajo tacos to rattlesnake chili, each bite is a culinary journey through the region.
Sego, Kanab, Utah: In the mood for inventive dishes that celebrate Southwest flavors? Sego in Kanab, Utah is your go-to. Let your taste buds dance with every bite.
Elote Café, Sedona: Embark on a culinary adventure at Elote Café, renowned for its exquisite Mexican dishes bursting with flavors that echo the rich hues of the Southwest.
Navigating Your Journey: Travel Times
Ready to embark on an unforgettable road trip and explore the Southwest's wonders? Here's a quick overview of approximate drive times:
Grand Canyon to Antelope Canyon: Approximately 3 hours and 15 minutes drive time.
Grand Canyon to Horseshoe Bend: Approximately 2 hours drive time.
Grand Canyon to Zion National Park: Plan for approximately 4 hours drive time.
Grand Canyon to Bryce Canyon: Roughly 5 hours and 30 minutes drive time.
Grand Canyon to Sedona: Allow approximately 2 hours drive time.
Your Adventure Awaits with Grand Canyon Guru
Join us at Grand Canyon Guru to turn your fall dreams into reality. Our expertise lies in tailoring custom Grand Canyon and Southwest Adventures that match your preferred travel style. Whether you're a family seeking unforgettable outdoor experiences, a couple looking for cultural exploration, or simply eager to immerse yourself in the beauty of the Southwest, we've got you covered. With our personalized approach, every aspect of your journey is meticulously designed to suit your interests. Let us infuse wonder and discovery into your adventure, turning your dream Southwest getaway into a reality. For more information on our services and how we create tailored experiences for every traveler, visit our Custom Self Drive Tours page. If you're interested in a more private and exclusive adventure, explore our Hand-Crafted Private tours page to learn about our approach to crafting unique experiences. Your adventure is right around the corner!