Grand Canyon in December for Christmas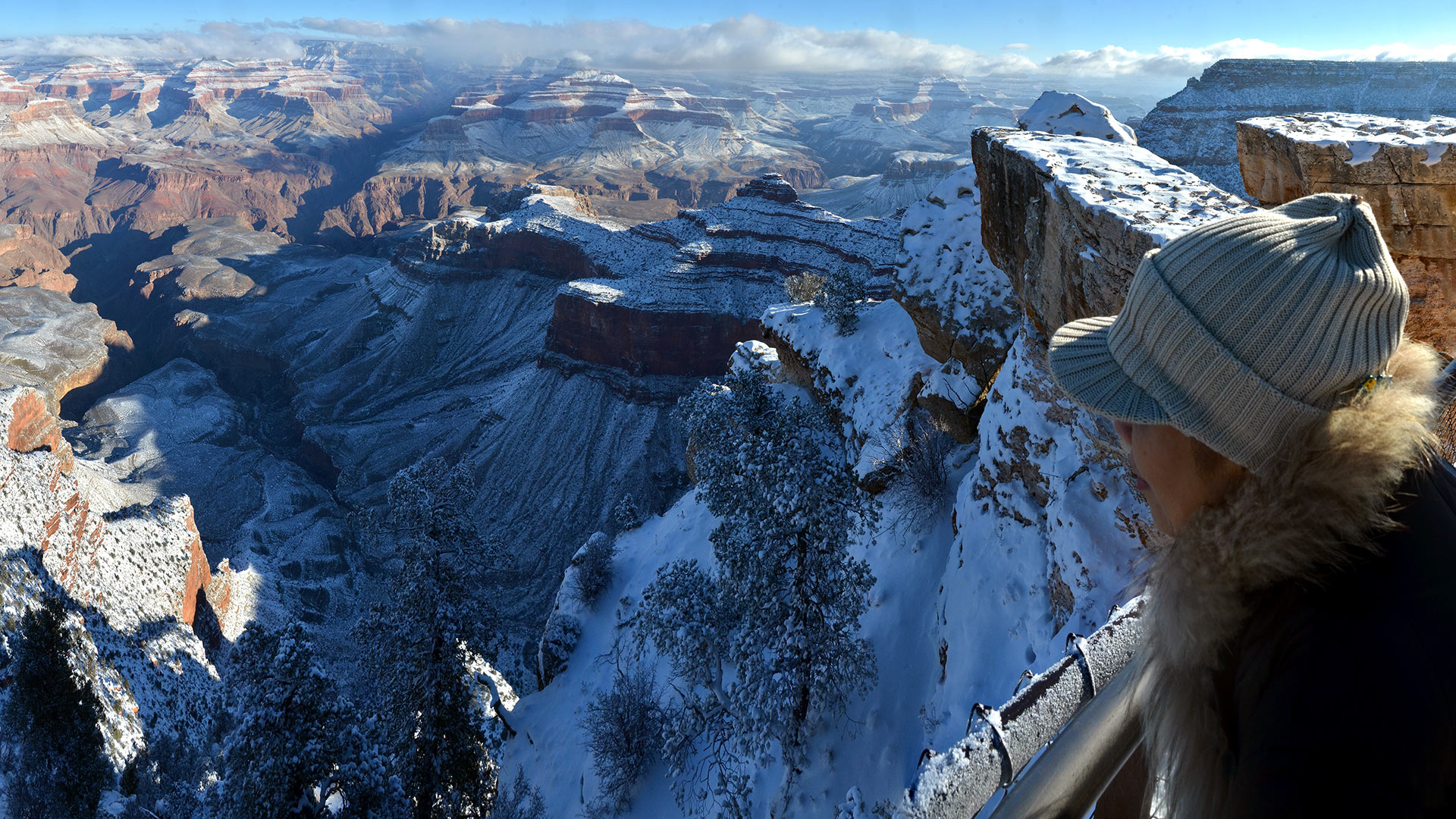 Published:
September 23, 2020
Grand Canyon Christmas Vacation in December (Updated for 2022)
Most people stay home for the holidays but some travelers want to spend Christmas at national parks so they can relax in the peaceful scenery. While most national parks are difficult to visit during the winter months or have limited access due to road closures and severe winter weather, the South Rim of Grand Canyon is not only open all year, but there are even many great activities to enjoy during your winter vacation. From the Polar Express to a backcountry Christmas at Phantom Ranch, you're sure to have a happy holiday at Grand Canyon National Park. If you need some help planning your adventure, we specialize in Custom Trip Design for fully guided private tours and Professional Trip Coaching for self-guided and DIY trips.
Grand Canyon Guru is reader-supported. When you buy through links on our site, we may earn an affiliate commission. Thanks.
Polar Express
This holiday experience starts when you board the historic Grand Canyon Railway Depot in Williams, Arizona and then makes your way to the North Pole through a beautiful pine forest near Grand Canyon National Park. The festive train ride features songs, dance and yummy hot chocolate while you listen to 'The Polar Express' story by Chris Van Allsburg. The much-anticipated arrival to the North Pole takes you to Santa's Village where Santa boards the train to fill every boy, girl and grown up with some jolly Christmas spirit. The Grand Canyon Railway offers trips to Grand Canyon Village all year, but the Polar Express is a special event held each Christmas season. The Polar Express offers both afternoon matinees and evening train rides from November through the first week in January. Reservations are recommended if you want to go close to Christmas when dates fill quickly, especially for the Christmas Eve limited train ride.
Grand Canyon Inversion
Although rare, the winter months offer you the best chance to see an inversion at Grand Canyon National Park. The bottom of the Grand Canyon is generally much warmer than the rim, but when air temperatures are cooler on the canyon floor than the rim of the canyon, a sea of clouds can form inside Grand Canyon making the rock formations look like they are rising from the clouds. This unique Grand Canyon weather phenomenon is called a total cloud inversion. Years may go by without an inversion occurring in the canyon, but during a good winter there may be several and if you are lucky enough to see an inversion it will be an experience you'll always remember.
Christmas at Phantom Ranch
If you're looking for something different to do for Christmas, take a hike to Phantom Ranch Lodge at the bottom of the Grand Canyon. Hikers headed to Phantom ranch will need to depart from the South Rim and make the 7-mile trek down the South Kaibab Trail or the 9.5-mile hike down the Bright Angel Trail. You'll want to make sure you're prepared for snow and ice on the rim with warm clothing and instep crampons for your hiking boots. You'll also need some lighter clothing layers for the warmer weather at Phantom where December temperatures can reach 70 degrees even though you started your day hiking through snow on the South Rim. Phantom Ranch is the perfect Christmas escape with its rustically charming dorms and cabins to make your stay comfortable and it also provides hearty warm meals so you don't have to worry about cooking or carrying extra weight for your trip. If lodging reservations aren't available at Phantom, Bright Angel Campground is only a few hundred feet away and you can usually make reservations for meals even if the lodging is full so you won't miss out on having a delicious Christmas feast. You can usually get walk-up first come, first served Bright Angel Campground permits this time of year at the park's Backcountry Office, but whether camping or staying at Phantom Ranch, reserving space in advance is the best way to ensure that you have a merry Christmas at the bottom of Grand Canyon.
Cross-Country Skiing on the South Rim
Visitors to Grand Canyon National Park usually don't associate the canyon with skiing, but the South Rim can get heavy snowfall in December and throughout the winter and spring months. This can create a very unique opportunity if you're into Cross-Country Skiing. The trails along the South Rim after a fresh blanket of snow (and the roads and trails through Kaibab National Forest right outside the park) can be transformed into an amazing winter wonderland with a little luck and the right weather.
Christmas Dinner at the El Tovar
No matter where you are, an amazing meal with friends and family is an important part of Christmas Day. If you're worried about not having your Christmas ham have no fear, the El Tovar offers a gourmet holiday feast that will make you both merry and full. Conveniently located right at the edge of Grand Canyon's South Rim, the El Tovar dining room offers a great menu on Christmas Day, views of the canyon and roaring fireplaces included. Start with a cozy Christmas beverage to lift your spirits like the Hermit's Cider or Peppermint Patty, then indulge in generous portions of roasted ham or prime rib before finishing your meal with a perfect holiday desert like pecan pie or red velvet cake.
Christmas with a Park Ranger
Park rangers work every day of the year and still offer fun and educational walks and talks on Christmas Eve, Christmas Day and New Year's Day. If the weather is wintery, programs move indoors but if you're lucky enough to enjoy good weather (bonus if the canyon has a coating of snow on it!) you can stroll along the rim with your guide. The park's Junior Ranger program can be completed any day of the year and getting a badge on Christmas is extra special for the young ones in your group.
Guru Tips for Christmas at the Grand Canyon!
Christmas is all about relaxing, enjoying time with your loved ones, and reflecting on another year gone by. Being at Grand Canyon for the holidays is sure to create special memories. Check out our tips below to find more ideas for a perfect trip to Grand Canyon.
Get your winter gear ready
Weather at the Grand Canyon's South Rim can include temperatures well below freezing and snow in December and January. It can also be warm and sunny, so make sure you bring a variety of gear.
If you plan on doing some Grand Canyon hikes, the trails heading into the canyon like South Kaibab and Bright Angel can be sheets of ice. Ice Trekkers are our go-to cleats for great traction in winter conditions.
We're definitely gear junkies here at the Grand Canyon Guru and Patagonia is one of our favorites. Their winter jackets are great for canyon weather and if you need a new suitcase or duffel bag they make some of the best.
For everything from sunglasses to hiking boots we love Moosejaw, and they have great prices and frequent sales.
Winter lodging reservations
Winter is a great time to get last minute hotel reservations at the Grand Canyon and not having to make reservations a year in advance is one of the best things about traveling to the canyon this time of year.
If you want to stay at the El Tovar Lodge and enjoy their amazing Christmas dining options it's a good idea to reserve your room a few months before you go, as this is one hotel that can still book up in the winter season. Check out El Tovar prices and availability in advance so you can enjoy the festivities.
If you're into downhill skiing and snowboarding Arizona Snowbowl is located outside of Flagstaff, AZ on the way to Grand Canyon's South Rim. Flagstaff is also a really cool town and you can usually get a good deal on a vacation rentals in town during the winter season.
If you need more hotel options, check out our Grand Canyon hotel guide.
Find a tour or reserve ticket
The Grand Canyon offers year-round access to guided tours and many tours are still available during the winter season including hikes, scenic helicopter rides, and more.
The Grand Canyon Railway and Grand Canyon Imax are two of our top picks for winter tours. For a self-guided tour when there's a good snow year cross country skiing on the South Rim is amazing.
More resources on grandcanyonguru.com for your Christmas vacation
It always a good idea to have travel insurance for your trip. When we travel in the Grand Canyon area and around the world, we love World Nomads. This is especially true for the holiday season when winter weather can really affect your travel plans.
Use our free trip planning tools to plan the ultimate winter adventure.
Get maps and guides for the canyon. Cell service doesn't always work and these are great tools to help plan your trip as well.